IB Diploma Programme
The International Baccalaureate Diploma Programme for Years 11 &12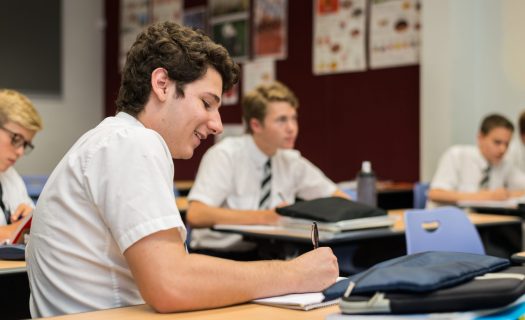 | | | |
| --- | --- | --- |
| Group | Subject | Level |
| 1 | Select your Group 1 subject  | HL or SL |
| 2 | Select your Group 2 subject(s) | Identify which subjects are only offered at SL |
| 3 | Select your Group 3 subject(s) | HL or SL or SL only |
| 4 | Select your Group 4 subject(s) | HL or SL or SL only |
| 5 | Select your Group 5 subject | HL or SL or SL only |
| 6 | Select your Group 6 subject or elective (another subject from Groups 2, 3 or 4) | HL or SL or SL only |
| CORE | | N/A Compulsory |
Constructing a Course of Study
A Diploma Programme course of study is constructed according to IB rules as set out in the General Regulations: Diploma Programme.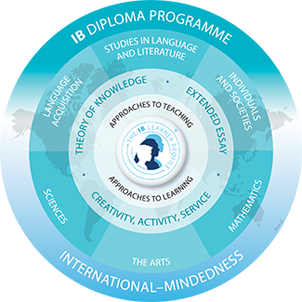 4 Stages in Constructing a Course of Study
1. Think about yourself as a learner.
What types of subjects suit you?
What do you want to achieve from your subjects?
2. Read and research the range of subjects on interest:
There are 2 sources of information available to help students find out more information about subjects of interest.  The re are 2 locations for information:
Once you have read this information, the following questions will help identify potential subject combinations.
Understand each of the Diploma Programme subject groups. What do they cover?
What is the nature of the subject? Do you find it interesting?
What are the subject aims and objectives?
What is the assessment style? Is there a specific proportion of exam / non-exam components that best suits you?
Are these subjects available at HL or SL or both?
3. Knowing which pathway to take
Languages and Mathematics are offered at different levels for the DP. The following pathway diagrams illustrate potential options for students.
4. Identify a preliminary list of subjects:
Once the steps above have been completed, students are able to identify a preliminary list of subjects. Use the points below to refine the list.
Identify the Standard Level (SL) subjects only first and list them in the table below by group number
Identify subjects for the remaining groups
Identify your other options for SL and HL
Ensure you meet the course construction requirements:

3 SL subjects
3 HL subjects
1 subject from Groups 1 – 5 plus either

group 6 subject or
another subject from groups 2,3 or 4
Do you have a subject listed that you can and would be happy to take at either HL or SL? This is highly recommended in case you need to change during the course.
Other considerations for course construction
University prerequisite subjects:
Do you have any plans to potentially apply for an overseas university? It is vital that you check whether you require any prerequisite subjects. University websites are the best place to look for this information.
Do you have plans to potentially apply for an Australian university interstate or in New Zealand?   It is vital that you check whether you require any prerequisite subjects. University websites are the best place to look for this information.
Prerequisite subjects for local, interstate and overseas university options tend to be found primarily in Mathematics and English. However, this does not preclude other subjects from being listed. It is important to seek clarification from the university if there are any questions during the subject selection process.
3 Key Elements
1. Student-centred learning 2. An IB approach to teaching and learning 3. Focus on good quality learning skills across all subject areas
Students are at the centre of the learning process and are expected to develop a range of skills that enable them to take an active role in making decisions about their learning. While we don't assume that students will start the course with highly developed skills in this area, we expect that students are willing and able to undertake this process.
The Diploma Programme course is designed in a way that builds and reinforces good quality learning skills across all subject areas. In particular, the core (Theory of Knowledge, Extended Essay and Creativity, Activity and Service) is designed to help students build both knowledge and understanding that supports students to achieve success across their other subject areas.
Understanding IB approaches to teaching and learning in the Diploma Programme is a central part of understanding what it means to be a DP student.
Teaching in IB programmes is:
Based on inquiry
Focused on conceptual understanding
Developed in local and global contexts
Focused on effective teamwork and collaboration
Differentiated to meet the needs of all learners
Informed by assessment (formative and summative)[1]
Assessments
The IBDP assessment operates differently to the HSC and Year 10 courses. There are 3 key differences
Internal and External Assessments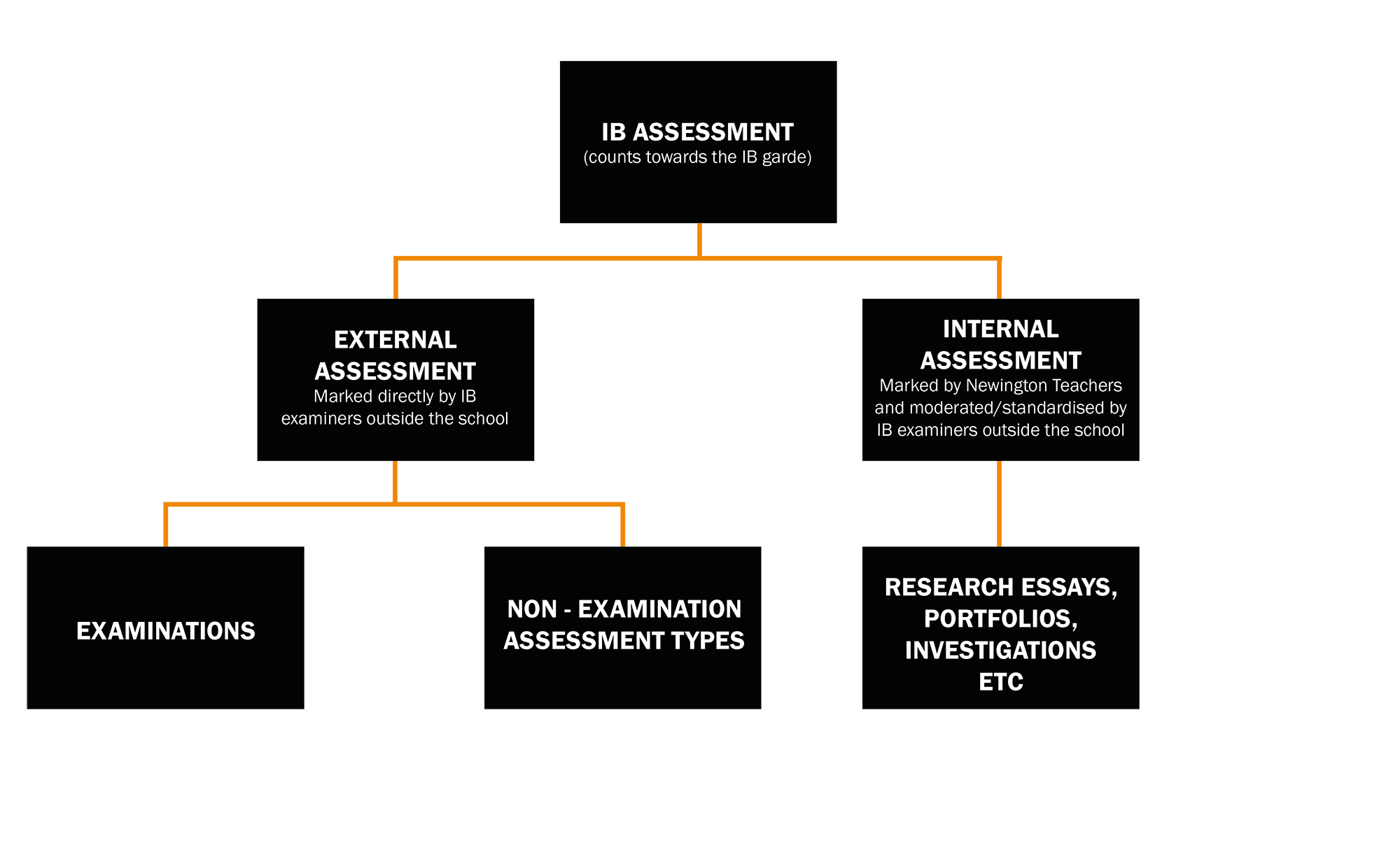 The Grades in Subjects and the overall Score
1. Students receive a grade from 1-7 for each Group subject
Final results for DP students are given in grades 1 – 7 with '7' as the highest grade and 1 the lowest. These grades represent levels of quality of work including demonstration of higher order thinking skills and sophistication of work.  Click here to read more about the Subject Grade Descriptors.
These grades are generated from a combination of IB assessments. The diagram below explains how each subject has a different combination of external and internal assessment with different weightings.
2. Students receive a score / 45 at the end of the Diploma Programme provided they meet all the requirements for achievement
The score / 45 is calculated from:
6 subjects x grade / 7 = 42 maximum of 3 Core points derived from the combination of TOK and EE Grades. TOK and the EE receive grades from A – E and the matrix below shows the possible combination of grades.
| | | | | | |
| --- | --- | --- | --- | --- | --- |
| TOK/ EEE | A | B | C | D | E |
| A | 3 | 3 | 2 | 2 | Failing Condition |
| B | 3 | 2 | 2 | 1 | |
| C | 2 | 2 | 1 | 0 | |
| D | 2 | 1 | 0 | 0 | |
| E | Failing Condition | | | | |
Further information on Diploma Programme Assessment can be found here.
3. Students use either their score / 45 or a converted ATAR equivalent rank to achieve university entry.
Depending on the location of the university, DP graduates can use either their score / 45 or converted ATAR equivalent ranking to achieve university entry. There are 3 key points to understand:
For Australian universities, students select their university preferences and enter them in the same way and at the same time as students taking the HSC or other state curriculum. The majority of entry opportunities for DP students into Australian universities are use a converted ATAR equivalent system. This conversion scale is published in May / June of YR12 and applies for entry into university the following year. This conversion scale fluctuates each year in the same way as the HSC – ATAR conversion does.
For overseas universities, students apply for positions in the same way as other international students. These universities use the score / 45 and can also require additional specific subject scores.
Other assessment questions:
Does other work / school exams count towards my score / 45?
No, this is called school-based assessment. Teachers and students use this information and feedback to help them understand their current progress, strengths and weaknesses. Students use this information to help them make decisions about how they will spend their time or seek further assistance. This is also referred to as reflecting on their learning.
What is an IB education?
The IB Diploma Programme is designed by the International Baccalaureate Organisation to provide relevant, in–depth and challenging courses of study designed to enable students to develop good quality learning skills that are particularly suited to university study. The courses are:
internationally focussed and designed to embody the IB Learner Profile and Mission Statement, and
focussed on developing both relevant knowledge and effective learning skills.