Testimonials
Every year, the Founders Society Lunch commences with Testimonials presented by Ambassador Members.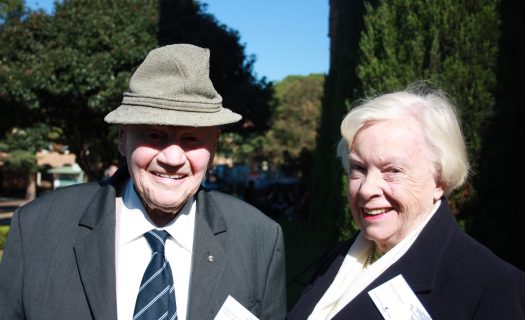 Major-General CMI (Sandy) Pearson (ON 1936) AO DSO OBE MC – Died 2012
On behalf of all of the boys who left their homes, families and the safety of Newington's gates to serve, defend and protect our Country in the Armed Forces, some paying the ultimate sacrifice, thank you for joining me in becoming a member of the Founders Society. (Founders Society Day 2011)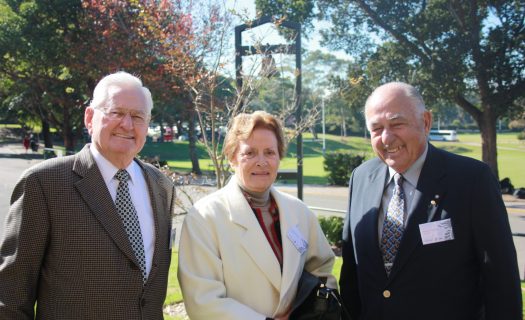 Barrie Titcume (ON 1951) – Died 2016
On behalf of all of the boys who left their paddocks, farms and homes in the Bush and made the long trip to Newington's Boarding House where the food was unforgettable but the mateship bonds grew strong enough to sustain a lifetime, thank you for joining me in becoming a member of the Founders Society. (Founders Society Day 2011)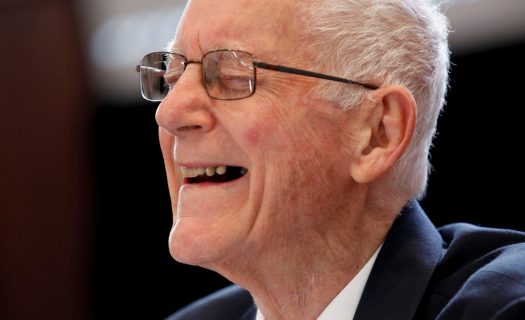 Mr Alwyn Druce (ON 1947), Member of College Council 1983–2003 – Died 2015
On behalf of the Old Boys who have had the privilege of serving on College Council, governing and steering Newington and the joy it now brings to see it as one of Australia's finest schools for boys, thank you for joining me in becoming a member of the Founders Society. (Founders Society Day 2013)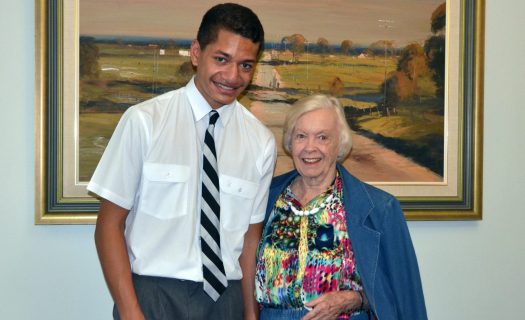 Mrs Jean Millner, the Millner Family – Died 2016
On behalf of the Millner family, whose connections run throughout Newington's proud history in numerous ways, and will continue forever with the first Jim Millner (ON 1937) [scholarship] Boy starting in 2014, which gives me great joy, thank you for joining me in becoming a member of the Founders Society. (Founders Society Day 2013)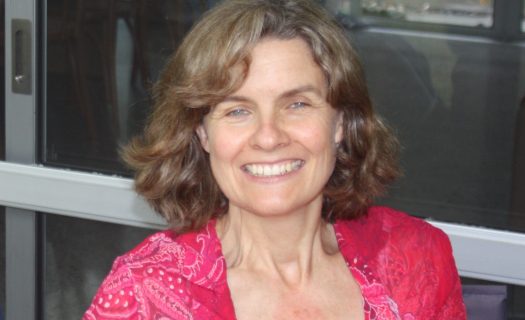 Mrs Caroline McDonald
…Most important to us is the alignment of values – the diversity and inclusiveness of Newington goes to the very heart of the values we are looking to instil in our boys and to carry with them as they move to University, into careers and, in one case, start their own family. Our boys have already, or are growing into men, who are indelibly stamped with the uniqueness of Newington and I joined the Founders Society in the hope that the investment in our boys is re-invested back. (Founders Society Day 2014)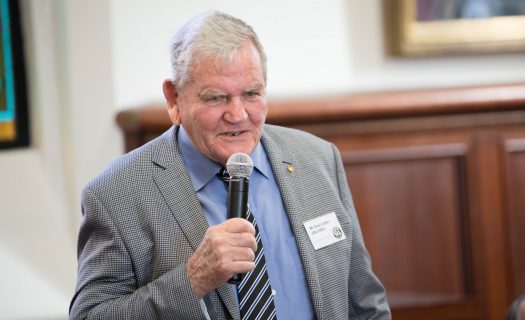 Mr Daryl Latter (ON 1960) - Died 2019
I was a Newington boarder from Kindergarten to leaving. Sport was the measure of my success. My middle distance athletics coach was the Headmaster L.R.D Pyke – he taught me that achievement is teamwork, concentration, determination and the will to win. He was a great influence on me and indeed on my peers at the time so that, when I left Newington, I had the desire and ambition to make it to the top in the business world, which I believe I achieved. I joined the Founders Society as both my son and I have seen the growth of Newington, and I am proud to contribute to that future growth and success. (Founders Society Day 2014)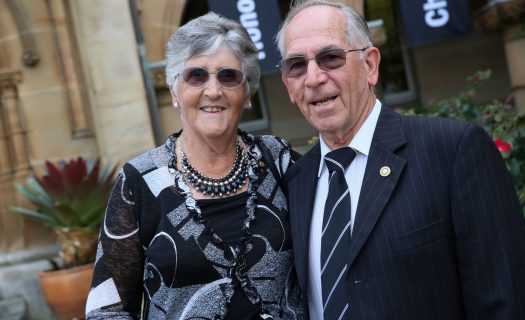 Rev Alan Palmer (ON 1957)
In 1952 I started at Wyvern House as a shy, sensitive 11 year old. Initially with no friends, I soon felt comfortable and secure in an atmosphere of nurture and encouragement. Progressing to the senior school in 1953 I was awakened to new friendships and challenges that moulded my character and strengthened my hope for the future. I remember with affection and gratitude the teachers whose gentle persuasion in study and sport led me to believe in my abilities. Looking back 60 years, I see that those years at Newington helped me focus on my future career and calling. Joining the Founders Society allowed me to express my gratitude for a sound education, not only for myself, but also my two sons now enjoying successful careers, together with the hope that other boys of Newington will be equally blessed. (Founders Society Day 2014)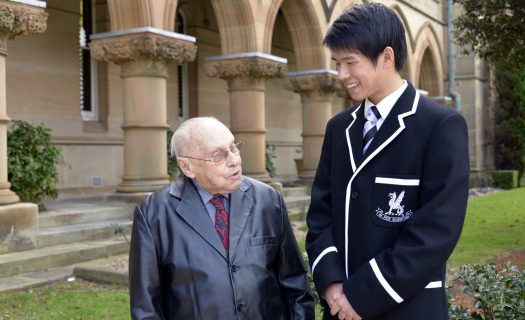 Mr Phillip Davis OAM (Staff 1951-2000) - Died 2017
In 1951, I first walked through the Millner Gates to begin my teaching career at Newington. I am turning 90 on 22 May and 63 years after that fateful day, I continue to count my blessings for having discovered my second home. I have been privileged to have taught mathematics to several generations of Newington boys, whose parents sacrificed much to provide that opportunity. It is important that such opportunity continues and I am proud to support the [scholarship] in my name to be launched today.
I joined the Founders Society so that my Estate will continue to provide opportunities to boys of promise for many years to come. (Founders Society Day 2014)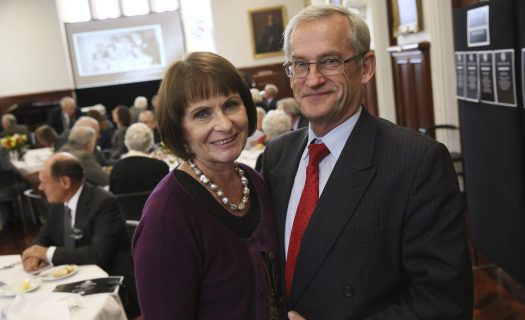 Mr Charles Amos (ON 1967)
I see the Founders Society as an opportunity for Old Boys to give back; to repay; to help reinforce the aims and objectives of the College. By doing so, one is helping to ensure the same opportunities afforded us will be available to others that follow, for their start in life. The [Scholarship] Program will see a healthy cross section of the community continue to attend the school and this will mean the greater the mix, the healthier the outcomes. I joined the Founders Society to give a start in life for those who may not otherwise have the chance. (Founders Society Day 2015)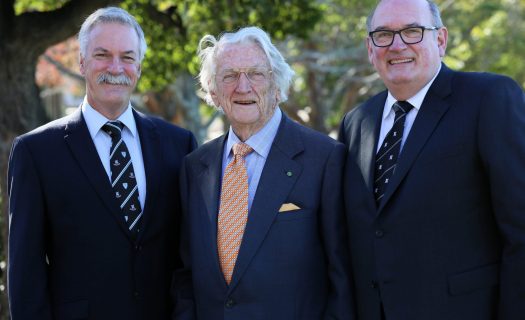 Mr Len Bosman - Died 2017
Through involvement with the Hurstville Methodist Church, I recognised the value of a Newington education…This influence led, in part, to both sons each enjoying ten years as Newington students. Tony (ON 1972) and Rod (ON 1978) both started as boarders in Wyvern and both have gone on to be worthy citizens and substantial contributors to Newington in all its facets. The value for the College now lies in the re-investment of voluntary and professional endeavour forthcoming from both Tony and Rod back into Newington. I am proud to make my further contribution as a member of the Founders Society – how could I do otherwise. (Founders Society Day 2015)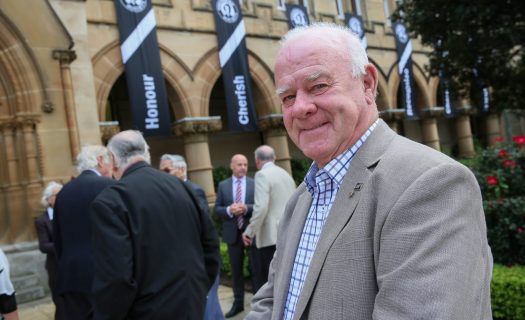 Mr Brian Ferguson (ON 1961)
I was a Day Boy starting in Wyvern in 1952 and finished in 1961. I could have gone to Shore and Joeys offered me a scholarship but Newington was where my heart was and still is. I am today because of what Newington taught me then….I joined the Founders Society to give back to Newington, in a small way, for all that she has done for me – the joy, the pleasure, the camaraderie and the memories – that will do me. (Founders Society Day 2012)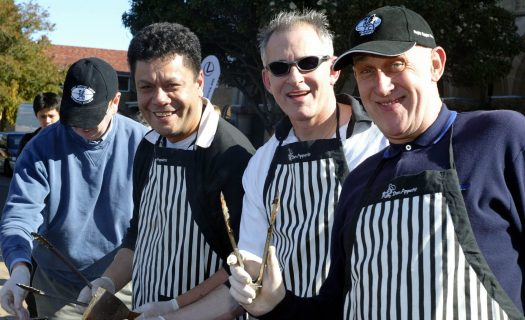 Mr Phillip Holey (ON 1970)
As a proud Newington Old Boy, I am so grateful for the opportunity to attend Newington.
Having entered the Boarding House in 1965 as a naïve country boy, I can now look back and see how this wonderful educational institution has transformed my life and that of so many other students, to excel in their contributions to their community and our country.
My decision to become a Founders Society Member was based on a strong desire to support this College and to give the same opportunities I had to those maybe less fortunate but who will also benefit greatly by being afforded a Newington education.
This is my contribution to, in some way, repay the opportunities given to me. (Founders Society Day 2012)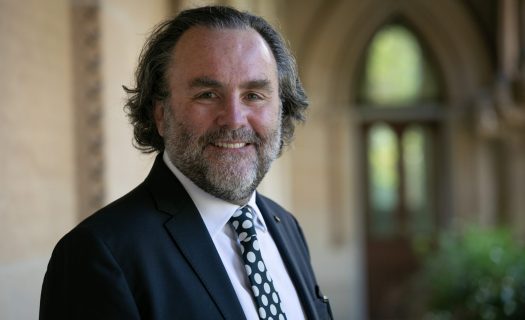 Mr Philip Moffitt (ON 1982)
…my (Newington) teachers showed me the adventure and joy of learning and that's the wonderful experience I want others to have. Probably other schools could have given me that too….but I didn't go to other schools. And I am still studying at University today…learning is the cornerstone of being me. I joined the Founders Society to encourage others to join and I can only do that from the position of membership. It is also my way of providing the opportunity for boys of little means to experience the same thing I did at Newington – the joy of learning. (Founders Society Day 2015)