Tools to enhance learning
Our Learning Environment
For further information or inquiries call the ICT Service Desk on (02) 9568 9568.
Here at Newington, we're passionate about the boys we teach and keen to engage with them in ways that will be beneficial after they leave school. We hope to enrich the time they have with their teachers by introducing online tools and well-designed applications.
This microsite is dedicated to showcasing the technologies that are part of the learning environment at Newington College. It is also a place to get information about how to purchase a laptop for your son and how to set it up.
Newington ICT staff have made some recent changes which affect students in Year 5 – 8:
We have introduced a blended program of 1:1 iPads in the lower school years and a full BYOD Program for Year 9 – 12
Changes to our BYOD program will be introduced in stages
These changes will take effect if your son is heading into Years 6 or 8 in 2017 and beyond.
2018 Program
In 2018, we will be focused on the newly released Apple School Manager and Classroom App, providing new opportunities for enhanced learning.
Device Requirements
In order for the integration of Apple School Manager, we are moving to a 1:1 model for iPads at Newington.
Apple School Manager
Apple School Manager and Classroom App boasts many great features and new possibilities for using iPads in the classroom: 

Takes away the headache for parents of having to set up iPads to be ready for school
Offers many practical management and administrative benefits
Helps eradicate and better streamline common concerns parents experience when managing iPads at home
For more detailed information, take a look at a letter to parents from Director of ICT Myles Carrick dated 20 September 2016.
What does it mean for parents?
As well as restricting access to games and other non-educational apps, taking on Apple School Manager also brings some other major advantages for parents.
No need to purchase an iPad
No device setup at home
No Apple ID issues due to age restrictions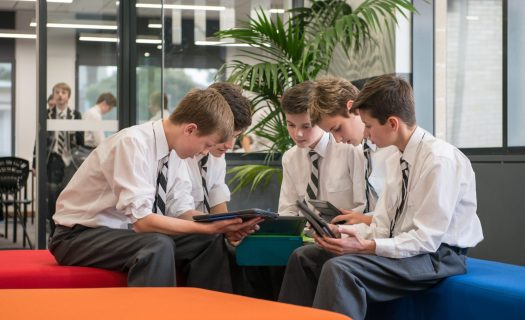 1:1 Model
All students from K-8 will be provided with a Newington owned iPad which will be managed and supervised by Newington ICT.