Golf
Golf is open to boys of any ability in Years 8 to 12.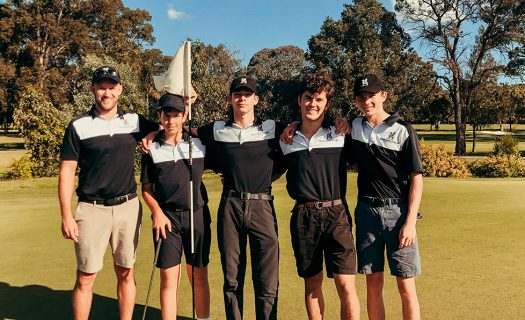 Newington Golf Program
All players compete in an internal competition at the end of a term. As a player's golfing skills develop there are opportunities during Saturday competition to compete against other AGGPS, CAS and ISA schools. The competition format is paired match play.
There are six fixtures in a term where four players represent the school in individual matchplay. Selection is based on a players official GA handicap, previous performance and ability to represent the College in a professional manner. Although only four players are selected each week, all eligible players play in rotation, so each has the opportunity to represent the College.
2020/21 Season
 The 2020/21 season marked the first complete competitive season for Newington College Golf.
Our competition team again competed in the combined GPS/CIS league and gained their first ever team victory over St Joseph's with an impressive 4–0 win. Addison Eastway was the most consistent player for the second year running, finishing with a 5–0–2 record. He was well supported by newcomers Ovi Nicholas, Harry Firth and Sebastian Grehan, as well as John Azzi who returned from the previous season. The boys performed well against some very talented players, eventually taking out fourth place on the ladder.
Training took on a new format this season with the introduction of a morning session. This involved strength, fitness, flexibility and a specific emphasis on short game, using Old Boys Oval. Bonnie Doon Golf Club was a fantastic support yet again. All external training sessions were run using their practice facilities under the careful watch of trainee professional Mr Cameron Shearer. Cameron was on hand each session to work with the boys in small groups to help them improve their individual skills. He was able to work with our players on their short game, putting and range.
Mr Graham Potter joined the team this season and looked after the non-competition side. Each Saturday morning the non-competition group of golfers took to Marrickville Golf Club after the members' competition had hit off. Groups of four boys played a Texas Scramble-style game over seven holes. This is where each player plays off the tee and the team chooses the best ball to play the next shot from until the ball is holed. Mr Potter would join a different team each week to explain golf etiquette and to pass on helpful tips.
There was much improvement throughout the summer with boys taking their Thursday afternoon lesson tips onto the course on the Saturday. In particular, club selection and course management became far more prevalent as better swings allowed for more confidence in their shot. Boys became accustomed to moving around the course with greater speed with more experience. It was also noteworthy that many good friendships were established with the relaxed nature of a round. The boys will be able to take the lessons they have learnt beyond Newington, into the social and corporate worlds.
Director of Golf Mr T Lever