Uniform
The Newington Shop is located in the Concordia Building opposite the school.
Uniform Shop
Newington College runs its own uniform shop located in the Concordia Building opposite the school. The shop is operated by Midford – a division of Georges Apparel.
For families commencing Year 7 in 2018
Parents need to contact the Uniform Shop on 02 9568 9427 before Monday, 13 November, 2017 to make an appointment for the fitting of their sons College Uniform, even if they don't intend to purchase the uniform until January.
Uniform Fitting Appointments
Appointment dates for 2017: Monday, 13 November 2017 to Thursday, 7 December 2017 between 9:00 AM and 3:00 PM.
Appointment dates for 2018: Monday, 8 January 2018 to Friday, 19 January 2018, between 9:30 AM and 3:00 PM.
Please note: The Newington Shop is not open on weekends or public holidays during this period. Please allow approximately 30 minutes for the Uniform fitting.
Make an appointment
To make a uniform fitting appointment contact:
Opening Hours
Normal Trading
(Resumes Monday, 29 January 2018 (Day 1, Term 1))
Weekdays 8:00 AM – 4:30 PM
Holiday Trading
(Monday 8 January 2018 – Thursday 25 January 2018)
Weekdays 9:00 AM – 4:00 PM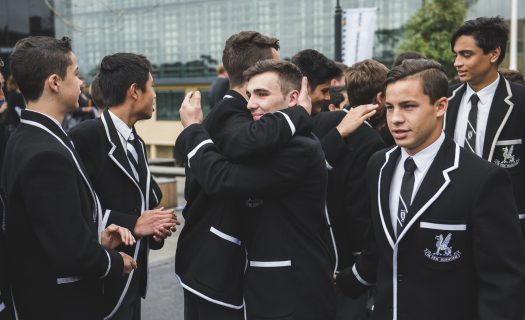 The Black and White Shop
The Black and White Shop is a Clothing Pool initiative run by the Parents and Friends Association located in Concordia House on Stanmore Road, opposite Stanmore campus.
The Black and White Shop sells good quality secondhand items of school uniform and provides a service to parents who wish to recycle uniforms their boys no longer need and to reduce the cost of purchasing the uniform.
All of the money raised through sales from the Black and White Shop is used by the P&F to further the fundraising effort and benefit the boys. Uniform items in good condition can be donated to the Black and White Shop for sale or can be left for sale on consignment. 60% of the sale price of consigned goods is returned to the parents.
Opening Hours
Monday: 7:30 AM – 8:30 AM
Wednesday: 8:00 AM –10:00 AM and 3:00 PM – 4:30 PM
Friday: 8:00 AM – 10:00AM
An extra Opening day will take place on Friday 8 December from 8:00 AM – 9:30 AM
Clothing Pool Opening hours 2018
Monday: First Monday of term 8:00 AM – 9:30 AM  (29 January, 30 April, 23 July, 15 October)
Wednesday: 8:00 AM – 9:30 AM and 3:00 PM – 4:30 PM
Friday: 8:00 AM – 9:30 AM
An extra Opening day will take place on Wednesday 24 January from 8:00 AM – 9:30 AM
Contact: 02 9568 9519