Creative Arts Facilities
Our advanced music and drama facilities are suitable for a number of functions and activities.
Music Rooms
The Music Centre includes specialist music classrooms, a Mac-equipped electronic music studio and large studios for strings, brass and woodwinds.
Chamber music rehearsal and teaching room
Ten soundproofed practice rooms / teaching studios
Drum teaching and practice room
Orchestral percussion room
Musicianship teaching room
Secure storage rooms for instruments
Music Practice Hall which houses the College's fine harpsichord, two grand pianos and Heissler Chamber Organ
Suitable for
Rehearsal
Private Tutor/Lessons
Seating Capacity
Advised on request as depends on performance group
Available on request
Guest WIFI
Catering
Whiteboard
Duckmanton Drama Centre
The Duckmanton Drama Centre was named in honour of Sir Talbot Duckmanton, CBE (ON 1938) on 31 July 2017. Sir Talbot served on the College Council from 1964 to 1978 and as Chairman of the Council Executive from 1968 to 1973. His son Craig (ON 1971) attended the College from 1964 to 1971. Sir Talbot died in 1995 at the age of 73.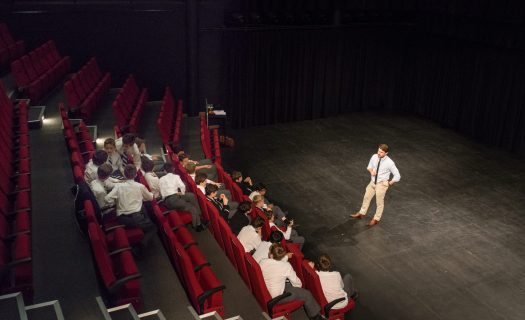 About the Drama Centre
Suitable for
Theatre Productions
Local and School Drama, Music and Dancing Performances
Rehearsals
Media and Product Launches
Conferences and Seminars
Commercials, Film Productions
Seating Capacity
Available on request
Food and Beverage – served in the Old Chapel
Audio Visual Technology – AV support is available through our in-house technician including lighting, audio and staging.
Portable Stage
Guest WIFI