Newington College is located at 200 Stanmore Road, Stanmore NSW 2048. The school is well serviced by public transport and is easily accessible by car, right in the heart of Sydney's Inner West.
We understand that boys from all over Sydney come to Newington, so the College also offers chartered bus services to and from the College each day, and there are Government transport options on buses and trains. These routes also service our Stanmore preparatory campus, Wyvern House. There is another private bus that runs to and from our Lindfield preparatory campus to Seaforth and also to Hunters Hill.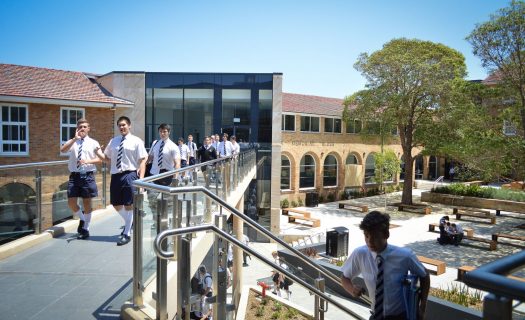 Chartered Services
The Newington bus to Stanmore currently services the North Shore, Sutherland Shire, Eastern Suburbs, Inner West and Northern Beaches.
There are two other chartered services that run to and from Seaforth and Hunters Hill to our Lindfield preparatory campus.
To secure a seat on the Stanmore buses for an AM/PM (return) or AM (morning only) or PM (afternoon only) please go to Online Payments and complete the online form before the term begins.
For casual use boys need to tap on and off with their student ID cards.  Parents are billed for trips taken at the end of each month.
Government Bus Service - Stanmore
There are two Newington School Special bus services which cover the Inner West corridor from Ryde and Balmain to Stanmore in the morning and returning in the afternoon.
The Ryde Bus is route number 564S and is scheduled by the BUSWAYS Ryde Depot (ph 9941 6850). It commences at Ryde depot and finishes at Wyvern Prep and then the Stanmore Secondary Campus. Click here to view more information about this service.
The Balmain Bus is route number 561S and is scheduled by Transit Systems at Leichhardt Depot (ph 9582 5950). It commences at Gladstone Park Balmain and, once on Victoria Road follows the same route to Wyvern Prep and Stanmore Secondary campus. Click here to view more information about this service.
Parents of new students commencing at Newington who don't already have an Opal card should apply for their boy's Opal cards online. Please click here to complete your online application.
If your son already has an Opal card don't apply for a new one, just update his travel details online.
For those new families commencing 2022, please apply for Government and private transport after Monday 6 December.