Outline
Welcome to Newington College. This is the official site for the Strategic Plan 2015 - 2018 'Discover what's possible' .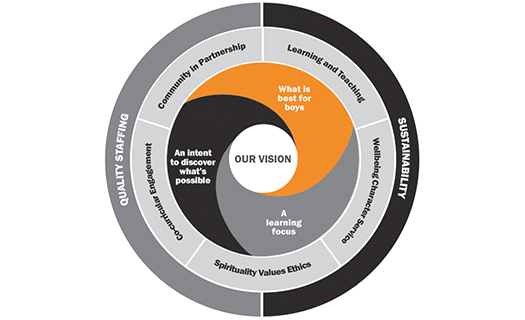 Outline of the Strategic Plan
A risk of strategic plans, due to the need for clarity of action and lines of accountability, is that each element is seen as a standalone project. Yet the reality is that all elements interact dynamically, each shaping the whole.
The structure of the Strategic Plan is broken into Guiding Principles, Foundations and Pillars of Distinction. For each Foundation and Pillar there will be a detailed internal document with further detail around priorities, goals, strategies, timelines, defined resource allocation, priorities for each year of the plan and an allocated staff member to lead matters. The Master Facilities Plan is publicly provided as a supporting document. All strategic plans must be flexible to changing circumstances over the life of the plan.
Our Vision
To provide an internationally respected education that empowers boys to become men of substance and resilience who make an active and positive contribution to society.
Guiding Principles
What motivates our planning?
What is best for boys
A learning focus
An intent to Discover what's possible
Pillars of Distinction
Where will we focus our efforts?
Learning and Teaching
Well-being, Character and Service
Spirituality, Values and Ethics
Co-curricular Engagement
Community in Partnership
Foundations
What underpins our Strategic Plan?
Our quality staffing
Our need for long term sustainability
Our Aims and Values