Swim Squad
Located on our Stanmore campus, our indoor, 8 lane, 25m pool, hosts swimming programs for all abilities from Learn to Swim to National level swimmers.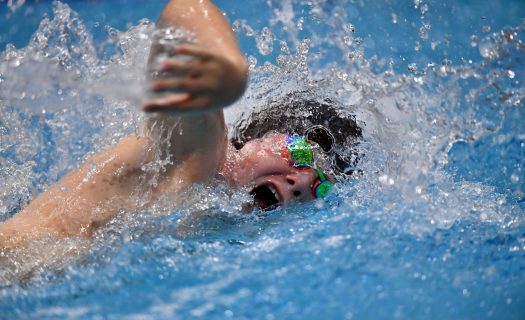 NewSPORT Swim Squad programs
Please find the NewSPORT Squad 2023 Spring Season schedule here.
Please find the NewSPORT Squad Holiday Timetable here.
Our programs include
A comprehensive Learn to Swim program, from non-swimmers to preparation for squads.
A 2 tier Junior Competitive Squad program, building on the foundations of skill acquisition and development.
A 3 tier Senior Competitive Squad program for our State and National age group swimmers.
A Fitness Swimming program for those swimmers who enjoy training to keep swim fit and enhance their skills in other sports, such as surf lifesaving, water polo, tennis, and rugby.
Squad Training
Squads are available to swimmers year-round and typically based around the NSW Swimming championship dates. As a guide, each year is broken up into three main seasons. Swimmers are encouraged to take scheduled breaks between seasons.
Season 1

Season 2

Season 3

January–March
(Term 1)
April–August/Sept
(Term 2 – 3)
September–December
(Term 3 – 4)
Championships Meet
Summer (Long Course)
National Age Champs
Championships Meet
Winter (Short Course)
NSW State SC Champs
Championships Meet
Summer (Long Course)
NSW State LC Champ
Expectations of Competitive Swimmers include:
Commitment to the season plan including training and racing
Strong communication with coaching staff
Display of leadership within the squads and club.
Expectations of Competitive Swimming parents include:
Commitment to the season plan.
Work together with coaching staff to develop well-rounded coachable athlete.
Offer guidance and support to new members.
Swim Squad Pathways
Our squad structure accommodates three separate pathways, both focused on the progressive development of our swimmer's technical skills and overall fitness levels.
1. Non-competitive fitness swimming
Swimmers wishing to develop their overall health and fitness or who swim for fun. Each swimmer will be exposed to all the technical aspects of the sport, but there will be less focus on the areas of competitive swimming and racing.
SwimFit (General swimming fitness)
College Squad (High performance fitness training)
2. Foundational swimming and racing skills
Swimmers wishing to develop their skills, or looking to transition towards competitive swimming.
Learn to Swim
Orange Beginner Squad (Intro to squads)
Orange Advance Squad (Intro to racing)
1. NSW Swimming – competitive
Swimmers wishing to develop as a competitive swimmer who are  aiming to compete in external meets (from small local meets through to State and National Championships). There will be a strong focus on competition and race skills, teamwork, nutrition, dry-land (gym) work, and other technical aspects of swimming.
Bronze Squad (Introduction to performance swimming)
Silver Squad (NSW State)
Gold Squad (National Age, Elite Athlete Program)
Newington College Swim Team
Each year staff select a swim team to represent Newington at the AAGPS championships.
AAGPS swimming is a representative summer sport held in term 4 and term 1 of the school year. Swimmers selected in the team will be asked to juggle this commitment with their selected summer sport.
The Swim Team is selected based on results from Newington Age Championships held in the first week of term 1. These results, in conjunction with displayed character, are compiled together to determine who would be strongest to represent Newington College.
Newington Swim Club
NewSC is a year-round sport for students and non-students to compete in external swim meets governed by Swimming NSW.
Membership of the Newington Swimming Club is compulsory for all swimmers who select to swim in our competitive squad program (Gold, Silver, and Bronze Squad). Swimmers in Orange squad are encouraged to participate in club night racing and eventually join the club. Membership for non-competitive (fitness) swimmers is also welcome.
Find more information about The Newington Swimming Club here.