Swim School
NewSPORT runs a fully accredited Swim School at the Stanmore campus swimming pool. All swimmers are welcome! The NewSPORT Swim School is open to everyone.
Swim School Program
Our holistic approach allows swimmers to learn at their own pace, building their confidence, and love of water while learning to swim with good technique. Every lesson incorporates water safety components to instil a healthy respect for being in and around water.
We offer classes for:
Preschool children from 3 years of age (children must be fully toilet trained)

School-age children from non-swimmers through to Senior Squads
Our small classes ensure lots of swim time to practise good technique.
All of our teachers and coaches are qualified and dedicated to teaching. Our facilities have been refurbished. Now offering new change rooms and on deck showers for your ease!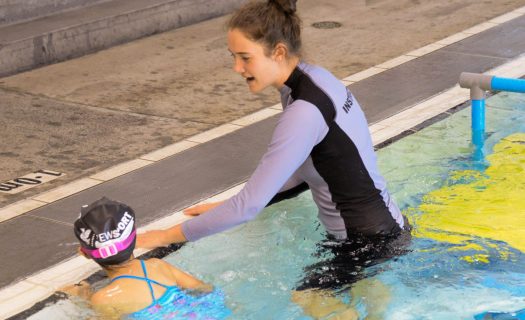 Learn to Swim
All independent swimmers must be assessed. We offer free assessments to let you know which level best suits your child's ability in the NewSPORT Swim School program. To register and book your free assessment, please click here.
Please contact us at swimschool@newington.nsw.edu.au or  02 9568 9401
Classes and Payment
We follow the public-school term dates calendar and offer holiday intensive lessons during the term breaks.
Two complimentary make-up lessons are available per term (conditions apply).
Monthly direct debit payments for the Squads program for your convenience.
A 10% discount is offered to siblings, and a FREE swim cap will be given to each child when they first book lessons.
Cost – Learn to Swim
$23.50 per lesson 
$235 paid in advance for a 10-week term

Our online booking system allows you to manage your bookings, make payments, organise make up lessons and much more.
Click here to login to your account.
Adult Program (Learn to Swim) 
Monday – Friday at 6:30 PM – 7:15 PM 
Small groups. Great atmosphere. Lots of fun while you learn to swim.
Cost – Learn to Swim
$32.50 per lesson
$325 paid in advance for a 10-week term
AUSTSWIM Accreditation
NewSPORT Swim School is an AUSTSWIM recognised centre and Royal Life Saving Swim and Survive Program partner.
This scheme offers quality assurance to the wider community, by recognising and promoting schools operating under AUSTSWIM guidelines for accreditation and best practice in program delivery.
AUSTSWIM is an active water safety advocate and collects data on the aquatic workforce and programs within the industry to deliver the highest quality programs.