Activities
Rides, animals and craft galore!
B&W Fun Park – 9am-3pm
Prepare for an overload of cute and cuddly animals at the B&W Fun Park in Sesqui Courtyard.
Kindifarm will bring along some lovely calves, a woolly sheep and goat, a couple of kid goats some cute baby chickens, a piglet, a raft of ducks and a huggable herd of guinea pigs and rabbits.  
Children can pat all the animals under the supervision of our Kindifarm Educators as well as feed some of the animals with a bottle.
A certified Farmer will also come along with his dog in tow and perform a whip cracking and sheep shearing demonstration.
Once you've had all the cute and cuddly animals you can handle, take a turn on the jumping castle, get your face painted (we suggest a wyvern if you're in need of inspiration), create something wonderful at the craft tables or take your pick from the sweets & show bags on offer.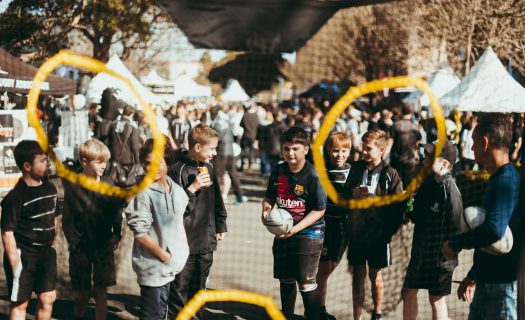 B&W Bounce Park – 9am-3pm
Reach new heights at the B&W Bounce Park and take on the Inflatable Obstacle Course, challenge your mates at Pass the Footy, and reward yourself for your efforts at the Bike & Blend.
B&W Splash Park – 9.30am-1pm
(conditions apply)
Take a dip at the B&W Splash Park, where a double inflatable obstacle course is ready to challenge your inner ninja warrior.
B&W Photobooth
Create memories with our special BTND photobooth (located outside the chapel) with a prize for best dressed!  
Make sure you wear your best black and whites and get your friends, family and fur babies together for a $5 BTND selfie that includes a printed photo from the day 
Upload your photo to Instagram and hashtag #BTND2022 #blackandwhite 
The best photo on the day will win a Black and White Store gift basket to the value of $250 (judged by Open Booths) 
Concordia Gallery and Art tour
Exhibition Opening
Future Ready presents the work of three classes of IB and HSC students who have reflected on personal and cultural narratives to make sense of their evolving present in a mode that enables them to be intellectually and creatively resilient. They have researched histories, communities, and experiences to make resonant meaning in the forms of installation, video, sculpture, photography, drawing, painting, and printmaking.
WHEN: 2.00pm–3.00pm
WHERE: Concordia Gallery, 221-235 Stanmore Road
Art Collection Walk and Talk 
If you're an art lover, if you've ever wondered about the artworks you've noticed around campus, or if you enjoy learning new things, this event should be right up your alley! For the first time at Back to Newington Day the Visual Arts Department and Concordia Gallery will offer a walking tour of the art collection installed around campus,  lead by Art Collection Manager Tracy Knox.
WHEN: 1.30pm
WHERE: LeCouteur building, at Richard Goodwin's seminal work Carapace (the big white car).