Health, Hygiene and Laundry
The Edmund Webb House has procedures in place to keep our boys healthy.
Medication
The Boarding House possesses 'everyday' medication such as headache tablets and antihistamines for use should a boarder feel unwell. They may be administered by the Boarding Master or the Boarding Master-on-Duty. A record of dosage and time will be recorded in the House Medication Use Book and signed by both the student and the Master-on-Duty.
We understand that each boy has different medical needs but it is suggested that no medications, including herbal medicines are to be kept in a student's room at any time. All medication is to be administered either by the Boarding House staff or the College nurse and to comply with the Australian Department of Health (Pharmaceutical Branch) all medications must be handed to the Boarding master for safe keeping.
Flu Vaccinations
The College will be offering flu vaccinations in Term 1. The School Nurse will make the specific details available at the start of the Term 1 and you are encouraged to contact her if you subsequently have further queries.
Illness
Any boarder who is sick is to report to the Master-on-Duty between 7:00 AM–7:45 AM. They should then report to the School Nurse in school tracksuit by 8:30 AM. Students who are ill will be cared for by the Nurse in the Health Clinic. Students are not allowed to remain in their beds if they are sick.
If a boy is ill on a non-school day then he must report to the Master-on-Duty as soon as he is able. If he is too ill to do so then he must ask another boy to inform the Master-on-Duty of his situation.
Dr Peter Maundrell, the school Doctor, works at the Fort Street Medical Centre in Petersham. The School Nurse, Mrs Margaret Bates will refer students to him when necessary.
When injuries occur boys will usually be taken by the Master-on-Duty to the RPA Hospital for treatment.
In some instances, such as serious infectious/contagious illness, boys will be required to spend the necessary isolation period with their local guardian or family member.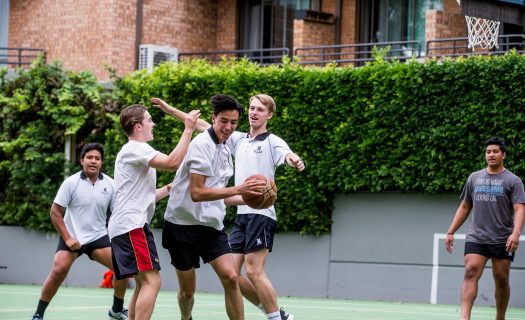 Laundry
Boys in Years 7–9 have both their uniforms and 'casual' clothes laundered by the school. Senior boys have their uniforms laundered by the school but take responsibility for washing their own casual clothes.
All items must be labeled.
Boys have a laundry basket for their own laundry and there are baskets outside of rooms for boys to place items for the cleaners to launder.
The laundry possesses three washing machines and dryers, plus access to both an outdoor washing line and indoor 'drying room'. There is also an iron and an 'elna press' for boys' use. Powder is supplied for the boys to use.
Boys are encouraged to use the drying room or outside line in order to help reduce unnecessary electricity usage and greenhouse gas emissions.
Linen
The College provides boys with the following linen items – towels, sheets, pillow and pillowslips, doona covers and quilt. Each week a student will receive two fresh towels, sheets and a pillow slip. Students are expected to make their bed each morning. Students may choose to bring their own doona cover in order to help personalise their bedroom.
Boys are to take the sheets, towels and pillow slip to the laundry area each Thursday evening and ensure that the bed is re-made with the fresh items that have been left out, prior to sleeping in the bed.
Each boy should bring his own, labeled BEACH TOWEL for any activity that requires a towel outside of the House.
Clothing Repairs and Sewing
If students have minor repairs or alterations to clothing, they should see the Head of Boarding. The easiest option is for boarders to take their items to the local dry cleaners where they do alterations. This includes sewing on of Service badges (for Cadets for example). For 'emergency' issues, the Head of Boarding has a basic sewing kit that the boys may use.