What to Bring
What you need to bring when you board at Newington.
Items to Bring
Here is a basic list of items that boys are required to have for Boarding at Edmund Webb.
Uniform
Boys must ensure that they have sufficient, appropriate clothing to attend school. All uniform items can be purchased from the Uniform Shop located on Stanmore Road.
Summer Uniform
Short-sleeve business shirt
Shorts (grey for boys up to Year 9, navy blue for Years 10–12)
Long socks (grey for boys up to Year 9, white for Years 10–12)
Black leather shoes
Black leather belt
School tie
Winter Uniform
Blazer
White long-sleeved business shirt
Long grey trousers
Black leather shoes
Black leather belt
School tie
Newington black knitted jumper (optional)
Sports Uniform
Newington tracksuit
Newington polo
Newington shorts
White socks
Sport shoes
Sport specific uniform is also required for most sports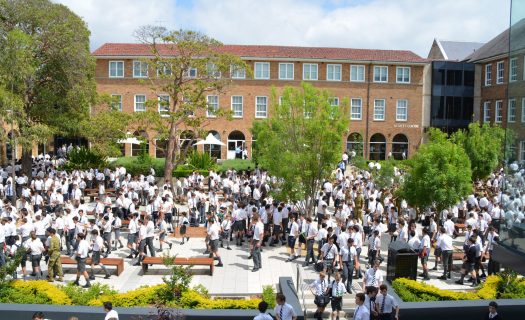 Expectations for Appearance
Boarders should have enough uniforms for:
School 5 days per week
Sport training at least twice each week
Saturday sport
Boarders must satisfy the expectations that other students of the College must meet with regard to appearance. This includes being clean shaven and having an appropriate haircut at all times.
When not going 'to and from' school, boys may wear casual clothing around the local area – more specifically, this means that they should not 'half change' out of school uniform when venturing outside. Stay in uniform or make a complete change. Remember to label everything!
Comprehensive Clothing List
A comprehensive list of clothing needed by boarders is given below. It should be used in conjunction with the College Clothing Regulations found on the College website.
1 Blazer
2 pairs of trousers
1 black leather belt
4 short sleeve shirts (Terms 1 and 4)
4 long sleeve shirts (Terms 2 and 3)
2 Newington pullovers
6 pairs of long white Newington socks
7 pairs of underpants
2 Newington ties
1 pair of black, leather, lace-up shoes, plus shoe cleaning equipment
2 pairs of Pyjamas
Several pocket-handkerchiefs
2 PE shirts
2 PE shorts
1 pair of non-marking sports shoes
1 pair of Newington swimmers
1 large sports towel (for use outside the Boarding House e.g. pool, gym or beach)
Toiletries (toothpaste, toothbrush, sunblock and other personal items)
1 umbrella
1 set of smart casual clothes
2 sets of comfortable clothes (including warm clothes)
1 pair of casual shoes
1 alarm clock
1 marking pen to re-label clothes
1 sports water bottle
Sports clothing will depend on the boy's choice of sports.