Mission Statement
The Boarding House encourages each boy to contribute positively to society and meet his personal best.
Boarding House Aims
At the Boarding House we share the school's vision and strategy. We encourage each boy to contribute positively to society and strive to meet his personal best.
Newington Boarding aims to:
Provide a safe environment that motivates boys to achieve their personal best in their academic, co-curricular and spiritual pursuits
Provide a strong sense of community that boys feel proud to be a part of
Provide a complimentary addition to the boarders' home life, to add value to boarders' schooling experiences
Develop self discipline and a positive, proactive attitude to daily life
The school's policies in place for the day school, also apply to Boarding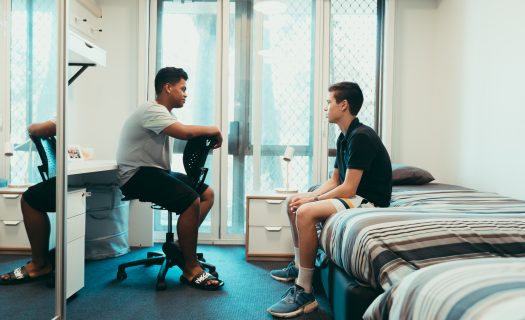 Key Traits
Within the Boarding House we hope to develop the following six key traits in our boarders:
Trust
Forgiveness
Integrity
Positivity
Compassion
Resilience
Helping our boys learn
To help our boys learn these values we:
Provide strong pastoral care to enable each boarder to develop to the best of his ability
Promote respect and tolerance for other people in a supportive environment
Protect the welfare of each boarder by providing a safe environment
Develop an atmosphere of trust in which each boarder feels able to approach any member of staff and be treated as an individual and with respect
Provide an environment where each boarder can work, develop sound academic habits and achieve the best results he is capable of
Develop a range of activities and opportunities to encourage the personal, social and cultural development of each boarder
Provide accommodation that is comfortable and suitable for the needs of each boarder
Provide each boarder with the means to communicate with his family, friends and members of staff
Promote in each boarder a sense of self-worth that allows him to develop a sense of responsibility and leadership, as well as the ability to work in a team
Provide a seamless transition with the general running of the College itself
Encouraging Responsibility and Respect
Since the boarders spend so much time together, at Edmund Webb we encourage a sense of responsibility and respect towards each other.
Each Boy's Responsibility
All boarders have rights and responsibilities within the Boarding House. It is important to remember that these go hand in hand.
For example, while it is your right to be treated with respect and courtesy by others, it is equally your responsibility to make sure you treat others with respect and courtesy.
To treat everyone with respect and courtesy, being polite and well mannered to all
To listen to others openly and carefully and to value their opinion even if you don't agree with it
To ensure, by their behaviour, that they do not prevent anyone else from learning and studying
To treat everyone fairly and kindly and to refrain from any form of bullying behaviour
To respect another's space and belongings, ensuring they always ask permission to use or borrow anything
To be honest and truthful, at all times, in their dealings with others so that they can be trusted
To fulfill their duties with care and to accept the rules and regulations of boarding life with good grace
Each Boy's Right
To be treated with respect and courtesy by everyone
To be treated as an individual whose views and opinions are valued
To have an environment in which they can learn and study to the best of your ability
To live in safety, free from the fear of bullying and others wrong behaviour
To have their personal space and belongings respected by all
To live in a positive environment in which truth, honesty and trust are valued
To have a clean, neat and pleasant house area in which to live