Wet Weather
Wet Weather Guidelines at Newington
What to do when there is wet weather
All boys are expected to meet under the Space Frame when there is wet weather
Some boys will train, others will go to video rooms to review games or be coached on their sport in a classroom environment
Extreme Weather Conditions
Extreme weather conditions include rain, heat, air quality and wind.
Newington will only cancel training/games when the weather makes play unsafe. Extreme weather conditions include:
Rain
Heat
Air quality
Wind
Newington College will inform parents of cancellations due to extreme weather conditions via SMS and on Spaces before 1.30pm. Students will be notified by lunch time. The Library will be made available to students who require supervision until the time sport training was scheduled to finish (eg. 5pm).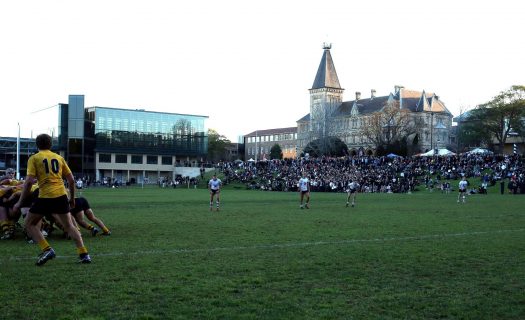 Saturday Sport
In the case of inclement weather conditions on Saturdays, please contact the Wet Weather phone number 02 9432 1222
We will communicate any game cancellations at approximately 7am (morning fixtures) and 11am (afternoon fixtures)
We apologise to those parents who are inconvenienced by this approach for inclement weather cancellations.
Our aim to maximise playing opportunities over a large number of venues means that decisions can only be made on a case by case basis. Fixtures will be updated on Spaces at the same time here.
Lightning and Thunder Guidelines
Our lightning and safety code is based on the 30/30 rule which calls for all play to be stopped when the lightning/thunder ratio reaches 30 seconds or less (ie. the time between when a lighting flash is followed by the sound of thunder is 30 seconds or less).
What does this mean?
When the 30 second ratio has been reached, this means that the lightning is 10 km away and the next strike has a "significant risk" of hitting the people who have seen the lightning and heard the thunder
All participants must be aware that in the event of lightning, play must not resume until 30 minutes after the last lightning strike and thunder
All play must cease immediately if there is hail. All students, coaches, spectators should seek cover immediately.