Football
Newington Football has gone to strength to strength with tour opportunities and clinics from international coaches.
Newington Football Program
Football at Newington has grown quickly since the first team was organised to play in an Under 14 knockout competition in 1968. In recent years, the Football Program has grown from strength to strength with premiership wins in both 2013 and 2014.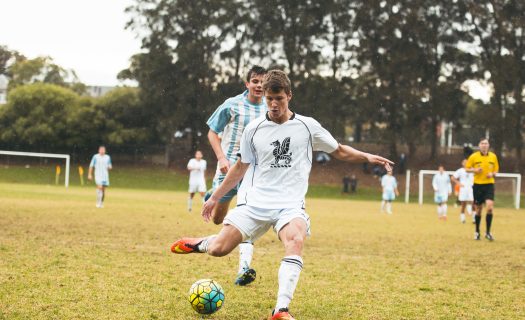 Training and Competition
Boys train an average of two afternoons a week
Boys have access to excellent facilities including two football fields, a weights room for strength and conditioning training and a 25-metre indoor pool for recovery sessions
Boys of all ages and skill levels are invited to play and numbers are not limited
There are no competitions for the Junior teams (U16s or below) as these age group games are more about fun and enjoyment. Competition at the Opens level involves home and away fixtures against other AAGPS schools.
There are opportunities for our premier teams to tour both interstate and internationally each year.
Program Aims
The Football program aims to improve the technical and tactical ability of boys through fun physical activity
2016 Season
The 2016 Football season had many highlights which included:
Coaching clinics with both international tournaments
Referee education courses
CIS Cup finals and GPS Plates
Football functions
Tours from visiting teams
From the early season trials, the College exhibited terrific potential. The boys were in good hands thanks to the time and commitment from the excellent coaching staff including Director of Football Mr McCarthy, Mr Jablonski, Mr Baker, and Mr Gilmartin.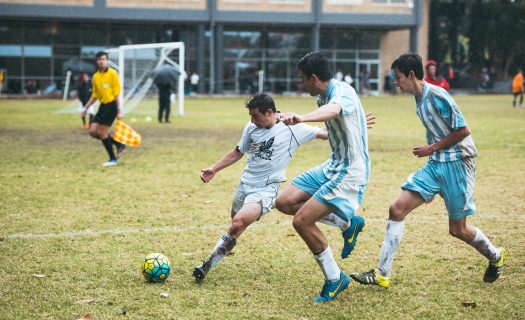 Manchester United Clinics
Following on the success of the Real Madrid Football Clinics in 2015, in 2016 the world-renowned Manchester United came to Buchanan for a great week of clinics. These were led by the Premiership's top Academy coaches, Neil Ryan and Neil Wood (ex-first team player at United), who focused on skills development and game awareness.
The College welcomed visiting teams from Armidale, NIAS Academy and the Burford College, UK. They played friendly matches against our 15 A/B and 16 A/B teams respectively, which added to the "learning curve" we are developing for our boys.
At the end of the year we had a special Liverpool Football Club Coaching Clinic run by the legendary England and Liverpool player,  John Barnes.
Individual Successes
An excellent season for all our teams resulted in the best AAGPS match record for 2016.
Sam Mehmet was chosen as the 1st XI Captain for 2016. He along with Connor Eldridge and Jamie Gorgovski were selected for the AAGPS representative team with Sam again earning the prestigious role of Captain. He led the AAGPS to the representative title and was duly selected for the CIS team with Jamie Gorgovski. Subsequently, Sam was chosen as shadow winger for the NSW State team.
Year 8 player, Peter Phillips was selected for the New South Wales Under-14 representative squad for the National inter state finals in Coffs Harbour, where he scored 4 goals en route to the NSW metro team winning their section.
The 1sts and 2nds performed admirably throughout the season, heralding the best offensive and defensive records in their competitions and topping their divisions throughout despite missing out on the spoils.
The College's Years 8 and 9 teams participated in the 2016 Kanga Cup in Canberra where the boys enjoyed a wonderful week of Football, activities, video analysis and team bonding.