Football
Newington Football delivers an innovative and exciting football curriculum, featuring outstanding coaches with proven pedigree, the best training venues in Sydney, cutting-edge game analysis and performance tracking technology, and numerous opportunities for boys to learn, enjoy and improve their football skills
Newington Football Program
Starting from humble beginnings in 1968, football is now the most popular sport in the College, with almost 520 boys being coached twice a week, all part of our 38 individual graded teams from Year 7 to Opens.
AAGPS football officially commenced in 1988, and Newington has been a constant standard bearer, always highly competitive and with eight 1sts Premierships, 12 Seconds Premierships and seven GPS Plates. Newington College has always been one of the most competitive football schools in the GPS, and we strive daily to ensure we maintain our status as one of the 'best in class' football schools.
Our player development-centred approach, continuous professional development for coaches and the diversity of the program all coalesce to make Newington football the perfect place to live your football dream.
Football at Newington epitomises our clarion call: Discover what's possible.
Training and Competition
All football teams at Newington have two individually designed coaching sessions a week, on or off-site.
Boys have access to excellent facilities. In addition to our on-site development centre on Buchanan Oval, the boys experience football and goalkeeping coaching at Arlington Oval, Lambert Park, Fraser Park and Sevington, and Year 8 students are able to enjoy futsal at Fraser Park. Newington has a weights room for strength and conditioning training and a 25-metre indoor pool for recovery sessions. Presentations to teams and video analysis take place in the OBLT, Function Room and the recently upgraded Team/Match Presentation Room.
Each year group has a Co-ordinator who manages the coaches and players for each team. Saturday match day selections are based on a weekly consultation between coaches on how the boys are progressing and learning. This process ensures that boys get the opportunity to showcase their talent and weekly improvement.
Appropriate competition is crucial to the boys' development in football. The AAGPS competition provides this through 12 Saturday match days in the main season and trial games at the end of Term 1. All boys must attend their weekly football commitments.
Competition at the Opens level involves home and away fixtures against all other AAGPS schools. We have almost 50 boys in our expanded Senior squad, and the 1st XI and 2nd XI play in the AAGPS Plate and Premierships. Newington were winners of the 2016 1sts Plate, while the 2nd XI have won the Plate since its inception in 2016. The 1st XI won the Premiership in 2014 and 2017. The 1sts also play in the annual IBC Cup, with Newington winning in 2017. Newington has also been one of the leading NSW schools in the annual CIS Cup for independent schools.
Our coaches have a multinational and eclectic fusion of global experience, a number with professional football careers in Spain, Greece, Scotland, Italy, Ireland and Colombia. Our program reflects these international flavours and ensures that our content is cutting edge, drawing on international best practice, while also incorporating fun warm-up games and competitive mini-tournaments. We have incorporated elements introduced by visiting coaches and teams, as well as the wonderful experiences we enjoyed on tour in the Iberian Peninsula in 2017, Holland, Belgium and England in 2019, and two recent Year 8 football tours to Shizuoka and Osaka in Japan. Practices from Football NSW and Western Sydney Wanderers are also used in our diverse coaching curriculum.
There are opportunities for our boys to tour both interstate and internationally.
Terry Palapanis gives half time tactical team talk at Arlington – Senior Squad v St Patrick's College
Year 7 coordinator Jacob Nastasi directing skill rotational games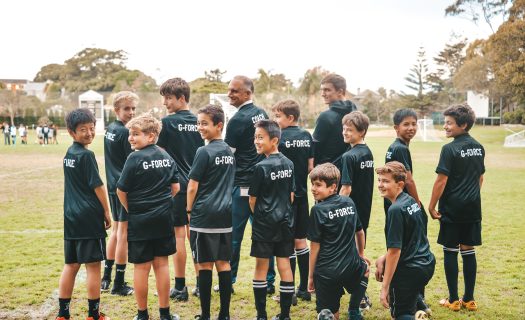 Program Aims
The Football program aims to develop the boys' interest in and passion for football and, in so doing, improve their technical and tactical ability through fun physical activity and social interaction.
2021 Season
The emergence of the COVID-19 variant in late June signalled a dramatic end to the 2021 football season after only three rounds of the premiership. The year started with high hopes and rich promise as the extended Senior squad of almost 60 boys from Years 9 to 12 began technical sessions at Fraser Park at 6.30am, with our young goalkeepers commencing at 6.15am under the tutelage of Mr Michael van Walsum and Mr Tom Petsianis.
The boys were exposed to passing, technical, tactical, conditioning and competitive exercises and games which are global in nature, from international football to European professional football to the best in academy development around the world, all under our unique range of top-quality UEFA 'A' license coaches Mr Brian Baker, Mr Neil Jablonski, Mr Terry Palapanis, Mr Nefta Gonzalez and Mr Valerio Silvestro. Any boy willing to present himself consistently at every development opportunity progressed beyond measure. Irrespective of what level of NPL football a boy plays, embracing the Newington Football program adds even more weight to their stature in football, and especially at Newington College.
Year 7 Football began in brilliant style as our enthusiastic cadre of Old Boy coaches delivered a wonderful rotation of skill games, technical challenges, mini competitions and equipment centric control assessment. The icing on the cake was the giant sausage sizzle hosted by our Newington College Football Association (NCFA) parent group. In terms of 'capturing hearts and minds', the entire event was a tour de force, which our young boys enjoyed.
The main program was in full flourish by the end of March with Year 8, 9, 10 and Open sessions in Arlington, Fraser Park, Lambert Park and Buchanan. This year also marked a watershed moment as outdoor futsal in the Fraser Park mini cages was rolled out for the 14F, 14G and 14H groups under the direction of Mr Brian Baker and Mr Tom Petsianis. The feedback from the boys and coaches was rapturous. Futsal as a summer sport is increasingly on the horizon. A world cup was held every Wednesday and every boy enjoyed the experience and improved significantly, such is the enhanced development that takes place in small areas, affording all boys multiple touches and interventions.
Despite the turbulence that COVID-19 wrought, 2021 was an historic year. The first floodlit GPS games took place on a still night at Fraser Park with both 1sts and 2nds winning convincingly against Sydney Boys High in the first round of the Plate competition. Thanks to the wonderful co-operation of the grounds staff and the support of the Sports department, Buchanan Ovals were reconstructed with the main oval receiving an extra 12 metres width and the NCFA assisted with the purchase of high-quality, full-sized, portable goals. Although Newington had only one GPS premiership home game on the new surface, the increased space led to 9−1 and 5−0 wins for 1sts and 2nds. Newington teams from now on will have a decided home advantage on the new playing surface. This meant a smaller Buchanan Two, but this is a better fit for younger boys to improve their skill and control in tight spaces.
Another initiative (again with assistance from our maintenance staff) was the installation of a large whiteboard and movable plasma screen in the equipment room, which has a dual purpose. On match days, teams were brought into the presentation room for tactical demonstrations, videos and keynote graphics. As well, head coaches brought their age group coaches together to go through the ensuing session, emphasising the key factors and progressions in each exercise and game. At Newington, unlike many schools, we see football as a learned set of skills, in the same manner that algebra is delivered on a phased and progressive basis. We see the boys' development as a transformational process, not transactional. Our coaches were also equipped with the new Sports Session Planner software to design their own exercises and animate them, and professional development classes were held via Zoom.
The Newington Football program has a complete bespoke development program, via booklet and download, for all ages and levels through to Years 3 and 4 in Wyvern and Lindfield. Animated sessions and tactical meetings took place during lunch times, and the 14As had an exciting year of football growth as Mr Scardilli introduced video analysis sessions. The further expansion of the school's Veo camera system provided match footage of six to eight matches weekly posted on Spaces by our dedicated football administrators, Mr Summers and Mr Scardilli.
The Newington Football program really does strive to 'discover what's possible'. Hopefully our present students and future generations will absorb and embody our ethos for the betterment of their teams and for their own self-worth.
Director of Football Mr B McCarthy
Sports Administrators Mr E Summers, Mr C Scardilli
Captain of Football Gaelen Dorigo
Representative Honours
AAGPS – Gaelen Dorigo, Connor Pidcock, Dimitri Vallas and Liam Spiropoulos
CIS NSW All Schools Open Championships – Gaelen Dorigo
GPS U16 squad – Thomas Hardy, Thomas Blanken, Ryan McPhail, Andres El Khouri and George Houvardas
Year 7 skills development
Newington College inaugural Indigenous jerseys during Reconciliation week
Year 7 skills development
The Future Football Pathway
The Newington College Football Program has established a dynamic, consistent, challenging, progressive, modern and player-centred development pathway for all boys irrespective of their current level of football ability or previous history playing the game.
Apart from the grading process in all our year groups, we also offer boys the possibility of selection for GPS Senior and Under-16 representative levels. This in turn is a direct conduit into CIS Senior and Under-16 teams, culminating with NSW and Australian schoolboy selection.
The boys have access to high-level skill development coaches, whose technical knowledge is outstanding. The program offers a variety of content tailored to different levels, which is crucial to each boy's enjoyment and competency building. We take a very careful, planned approach to all teams within each year group, with our Year Co-ordinators selecting bespoke content for each team in tandem with the coaches, meeting with the coaches in a presentation-style setting and monitoring the boys' performances on a weekly basis to allocate each student to a team based on merit.
It is this meticulous, systematic methodology that has served Newington boys well in recent years and has led to an average 70 per cent win rate, with less than 20 per cent losses. We strive to improve boys individually and the team collectively, with high standards that benefit all boys.
To assist the boys on their football journey, we record a number of games via our new artificial intelligence Veo camera system and employ session design software, performance analysis software and telestration packages. Football conditioning and power training are also available.
A number of Old Boys have progressed to A League, NPL football and American Colleges, and many of our boys also transition to coach in the Football Program when they have finished school.
No stone is left unturned, at Newington, to provide each boy with the opportunity to discover football, like football, engage in football and ultimately love football. When a boy reaches that stage, their mindset for self-improvement ultimately impels them to persevere, practice and play, every day.