Rugby
The tradition of Rugby at Newington remains strong with play open to boys of all ages and skill levels
Rugby Program at Newington
Newington College was the first school to play rugby back in 1869 with a twenty-a-side game against Sydney University on Newington's home ground at Silverwater.
Today the tradition of rugby at Newington remains strong. Boys of all ages and skill levels are invited to play and numbers are not limited. Under the guidance of a full-time coaching director, boys are required to train two afternoons a week and have access to excellent facilities including three rugby fields, a weights room for strength and conditioning training and a 25-metre indoor pool for recovery sessions.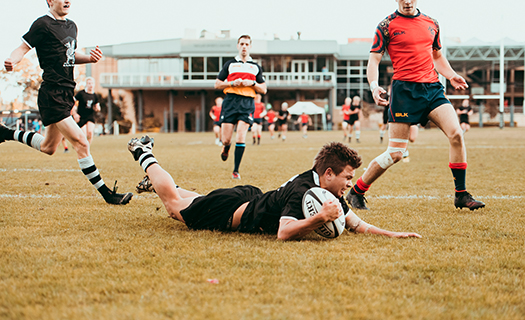 Training and Competition
Competition involves home and away fixtures against other AAGPS schools which are played on Saturdays during term. There are also opportunities to tour domestically and overseas.
In 2015 the school's U14's toured the UK following the Wallabies at the Rugby World Cup and in 2016 the 1st XV embarked on a pre-season tour of japan and the U15s tour Tonga annually in conjunction with the Service Learning Department.
2019 Season
The 2019 season was one in which we acknowledged Newington's 150 years of rugby, and being the first school to play rugby in Australia added to the importance of the GPS winter season. 
The results on the field continued the improving trend across the entire program. Most significantly was the individual achievement of the large list of boys awarded with representative selection within their respective age groups. Added to this is the continued strength and depth of the new U13s age group.
Congratulations must be extended to all individual prize winners across each age group with special mention going to the U15As team for successfully winning the David Jacobs Cup (Best performing non-competition team), the U13As for taking out the Ellis Shield (Best U12/U13 Rugby team) and to Dean Begetis for being awarded the ONU Character and Service Prize for Rugby.
Well done to all the boys who participated in the Rugby program this season.
Solid Foundations
The success of our teams was built upon a solid foundation of hard work and belief in one another.