Rugby
The tradition of Rugby at Newington remains strong with play open to boys of all ages and skill levels
Rugby Program at Newington
Newington College was the first school to play rugby back in 1869 with a twenty-a-side game against Sydney University on Newington's home ground at Silverwater.
Today the tradition of rugby at Newington remains strong. Boys of all ages and skill levels are invited to play and numbers are not limited. Under the guidance of a full-time coaching director, boys are required to train two afternoons a week and have access to excellent facilities including three rugby fields, a weights room for strength and conditioning training and a 25-metre indoor pool for recovery sessions.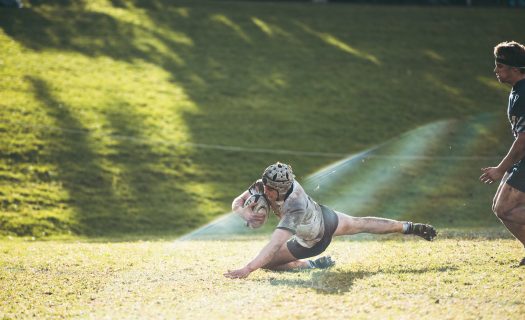 Training and Competition
Competition involves home and away fixtures against other AAGPS schools which are played on Saturdays during term. There are also opportunities to tour domestically and overseas.
In 2015 the school's U14's toured the UK following the Wallabies at the Rugby World Cup and in 2016 the 1st XV embarked on a pre-season tour of japan and the U15s tour Tonga annually in conjunction with the Service Learning Department.
2016 Season
After a number of changes were made to the Rugby program during the off-season, it was encouraging to see positive progress and a fantastic effort by the 1st XV during the 2016 season.
Opeti Helu, Tom Serhon, Tyrone Taukamo, Nathan Lawson and Bayley Kuenzle were selected to play for the NSW Schoolboys at the National Championships in July
Opeti Helu was selected for the Australian Schoolboys side who travelled to New Zealand in September to play the All Blacks
Tom Serhon, Bayley Kuenzle, and Tyrone Taukamo played for the Australian Barbarians coached by Mr Brad Gill against the touring Tongan Schoolboys at Newington in September
After strong performances for the AAGPS at the NSW U16 Schoolboy carnival,  Angus Bell, Keith Titmus, Chris Icanovski and Liam Janson were selected for the NSW team that toured New Zealand in September
Well done to all the boys who participated in the Rugby program this season.
Solid Foundations
The success of our teams was built upon a solid foundation of hard work and belief in one another.