Rugby
The tradition of Rugby at Newington remains strong with play open to boys of all ages and skill levels
Rugby Program at Newington
Newington College was the first school to play rugby back in 1869 with a twenty-a-side game against Sydney University on Newington's home ground at Silverwater.
Today the tradition of rugby at Newington remains strong. Boys of all ages and skill levels are invited to play and numbers are not limited. Under the guidance of a full-time coaching director, boys are required to train two afternoons a week and have access to excellent facilities including three rugby fields, a weights room for strength and conditioning training and a 25-metre indoor pool for recovery sessions.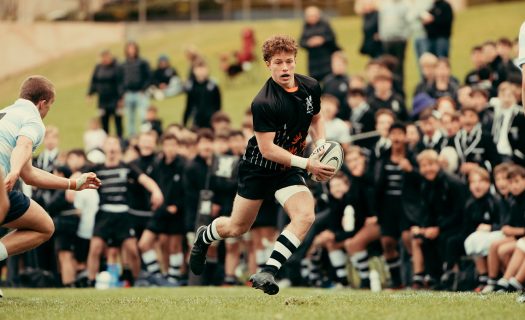 Training and Competition
Competition involves home and away fixtures against other AAGPS schools which are played on Saturdays during term. There are also opportunities to tour domestically and overseas.
In 2019 the U14's toured Japan following the Wallabies at the Rugby World Cup, while during that year the Senior Squad toured domestically to Perth, the U13's travelled to the Gold Coast and the U15's visited Tupou College in Tonga in conjunction with the Service Learning Department. Students have further opportunities to complete their Service Learning hours and Duke of Edinburgh requirements though our intensive Referee Program.
The global pandemic has temporarily halted tours, but planning for 2023 and beyond includes the Rugby World Cup in France, Tupou College visits, Brisbane Festival of Rugby Senior Development tours and Gold Coast U13 tours.
2021 Season
Back-to-back winter seasons impacted by COVID-19 restrictions made us unable to complete the AAGPS season for the first time since WWII. This unfortunate and unavoidable outcome snuck up on many but most of all the Year 12 boys who, at the time of round one of the competition, could not have realised that would be their final game and sporting experience for Newington. Thank you to all boys, staff and families who contributed to the 2021 season but specifically to the departing Year 12 boys, we appreciate your commitment to Newington rugby during your time at the College and congratulate you on the manner in which you conducted yourself with the environment that you were dealt.
Despite the shortened season, there were many highlights to acknowledge. Firstly, the support of the Newington College Rugby Association led by Ms Lani Frew. Be it Christmas tree sales, the U13 pizza family meet-and-greet afternoon, the weekend BBQs, the prep school rugby packs, the hugely successful season launch and the general support of the rugby program, the impact of the NCRA is significant to the opportunities gained by the boys. Further highlights include the significant improvement in performance of our age group 'performance' teams (ie., the A/B teams) coupled with strong results across the pParticipation' group. The depth and strength of the U16 & U15 age groups plus the 13A's individual results provide positive aspirations for the years forthcoming. A multitude of boys represented at AAGPS level both in the Opens and U16 and pushing through to NSW Schoolboys, Australian Schoolboys, President's and NSW Gen Blue U18 representation. This accomplishment is a testament to the boys' effort and commitment to achieve in rugby and we look forward to following their continued development.
The Indigenous round against The King's School included a smoking ceremony and specially designed jerseys. It marked a significant moment in Newington's growth and acknowledgement of Australia's First Peoples. And finally, although a tragically sad day, the way the communities of St. Joseph's College and Newington College joined together to honour a Joeys mate, Nick Munsie, was a moment that will be long remembered. Thank you to all who were present that day and for the respect that was shown.
Finally, we welcomed Mr Tim Rapp back to the College after an eight-year hiatus to drive our 1st XV as Head Coach in addition to his position as Director of Coaching across all sports at the school. The opportunity for Mr Rapp to influence the boys was cut short but his impact was quickly apparent, and a complete season will no doubt reap rewards. We are fortunate to be building a significantly talented coaching group impacting boys across all age groups and look forward to what an uninterrupted season can bring.
Director of Rugby Mr L Fear
1st XV Head Coach Mr T Rapp
Head of Rugby Referees Mr D Conway
Captain of Rugby Sam Eagleton
1st XV Captain Hugh Bell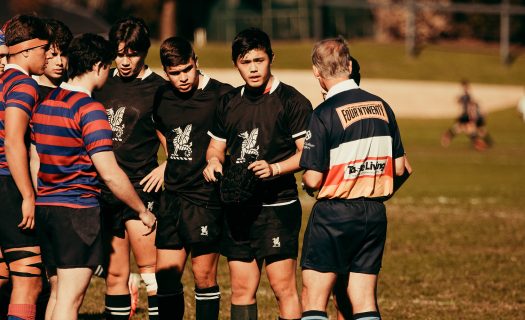 Representative Honours
NSW Waratah GEN Blue U18: Jaydon Viliamu
Australian Schools President's XV & NSW Schools: Hugh Bell, Siteni Taukamo
NSW Schools (U16): Lipina Ata, Charlie Foster, Mitch Hyslop, Tunui Jorgensen, Jesse McLean
AAGPS (Opens): Hugh Bell, Louis Bertrams, Billy Dickens, Seluini Fakaosifolau, Thomas Maclean, James McGregor, Gabe Poidevin, Siteni Taukamo, Oliver Townsend, Jaydon Viliamu, Drew Williams
AAGPS President's XV (U16): Lipina Ata, Matteo Cleverley, Charlie Foster, Mitch Hyslop, Tunui Jorgensen, Jesse McLean, Koby Owen, Daniel Wright
Solid Foundations
The success of our teams was built upon a solid foundation of hard work and belief in one another.