Athletics
Athletics at Newington offers a range of events for boys of all skills and abilities.
Newington Athletics Program
We have an experienced group of coaches who work with the boys to help them achieve their personal best.
The Athletics program at Newington continues to grow in leaps and bounds. Our boys train both onsite and at various other venues close to the College. We have an experienced group of coaches who work with the boys to help them achieve their personal best.
Participation in Athletics is not compulsory for students but is open to all boys in Year 7 to 12. Boys who are invited to participate because of their results in fitness testing and others because of specific abilities in field events. The season culminates with the AAGPS Athletics Carnival which the whole school attends.
Track Events
Hurdles; 100m; 200m; 400m; 800m; 3000m; 4 x 100m relays; 4 x 400m relays
Field Events
Shot Put; Long Jump; High Jump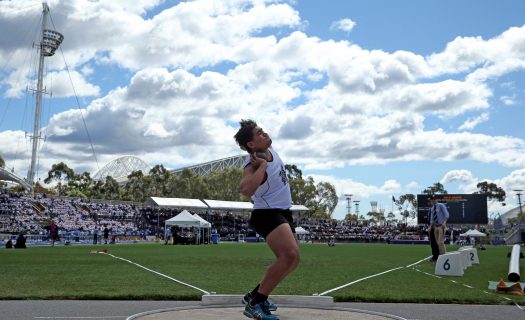 Training and Competition
The Newington team trains twice a week for each event and boys often attend training for multiple squads throughout the week. Competitions take place on Saturdays throughout the season.
Boys are encouraged to participate in external competitions such as the CIS Athletics Meet and the New South Wales All Schools Championships to supplement their competition experience. The AAGPS season culminates in the AAGPS Championships which occurs towards the end of Term 3.
There are three Divisions which boys compete in:
Junior
U13 and U14
Intermediate
U15 and U16
Open
U17 and Open
2020 Season
Season 2020 was one of the most productive in Newington's long history. In Athletics' 125th year the coaches and program at Newington supported over 300 students participating in various disciplines across a 10-week training block. The focus and consistency that comes with dedicated training assisted us all in such uncertain times.
It was evident the students enjoyed the opportunity to engage with their mates and compete physically. Each student dedicated themselves to improving their craft, whether it was sprinting, jumping or throwing. The COVID-19 restrictions placed on these young men earlier in the year had been lifted and Athletics was the beneficiary.
Our Sprints/Relays coaching team led by Mr Gary Theodore and Mr Angus Beer (ON 2019) navigated the difficult task of getting these boys back into shape after some extended time off. Their program was carefully considered and ran like clockwork. Gary has high expectations and demands the same from his athletes. Angus showed his versatility as an athlete transitioning from a distance athlete to a sprints coach. His focus and real-world experience proved valuable to our students.
Our Middle Distance program was guided by the ever-enthusiastic Mr Nathanael Coull and assisted by Mr Thomas Newham (ON 2019). A large number of students participated in this discipline this season and their attendance and attitude reflected the leadership shown by their two coaches. Thomas provided sound coaching and excellent pacing whilst Nathanael kept the boys enthusiastic and interested in some of our tougher races.
The long 10-week season really assisted our Shot Put program. In such a technical discipline it meant more dedicated time to training which transferred into some exceptional results. The team, led by Mr Nick Wainman (ON 1991), Mr Trent Dyer and Mr Sione Lemoto (ON 2019), gave these young men exceptional support and their results reflected this.
Our Long Jump coach Mrs Lyn Jacenko and High Jump coach Mr Sebastian Gray (ON 2014) were inundated with young men wanting to give these disciplines a go. Each of them improved under the excellent coaching provided to them and, I feel, developed a real affinity with the discipline.
This season under the guidance of Mr David Murphy and Mr James Ellis (ON 2015) our Hurdles team produced the discipline's most points in more than 10 years of competition. This program has continued to improve over the last few seasons and our coaches should be proud of the environment they have fostered.
Thank you to our school nurse Mrs Margaret Bates and our physiotherapist Mr Matt Anthis (ON 2010) who helped guide us through the COVID-19 protocols and helped to keep us safe and healthy. Your efforts were most appreciated by coaches and students alike.
To our Head of Sport – Thank you, Mr Mark Dickens. Mark supported Athletics during COVID19 and was instrumental in getting the season up and running for Newington. He was a regular figure in and around our athletes and was always keen to discuss race strategy and team selection. His counsel was much appreciated.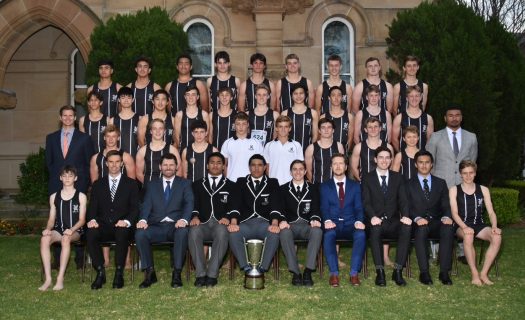 2019 AAGPS Athletics Championships
Junior Division
It was impressive to watch our Junior boys train this season. On the morning of the championships it was evident our team was there to work hard for each other. The shortened format was challenging although no issues were evident.  There was a battle between third and fourth place between King's and Newington, and King's held us off for a Newington fourth place. Our younger Year 7 students should be very proud of this result; many of them are still growing and finding their athletic potential. The future years sure look promising.
Intermediate Division
Our Intermediate Team was at full strength this season and it showed on the day. As the afternoon became evening a real spectacle unfolded under lights at SOPAC. Our Intermediate athletes started the day well and finished it off in style. In the last seven events Newington were able to capture 183 points out of a possible 202. Maximum points in the relays was a wonderful way to finish off a great afternoon of competition. Newington humbly accepted victory as the evening closed.
Senior Division
The challenge to defend our title was almost an unachievable goal but you'd never believe this given the effort our Seniors put into their training and competition. With some key athletes sitting on the sidelines, those who stepped up didn't miss a beat. They were just as hungry and just as dedicated to helping the Black and White achieve the best result they could. Our students fought hard till the end and came a commendable fourth place.