Athletics
The Athletics Program at Newington College is known for its tenacious spirit.
Newington Athletics Program
We have an experienced group of coaches who work with the boys to help them achieve their personal best.
Athletics offers the building blocks for most traditional sports. The training required should be seen as complimentary and beneficial to any athlete who enjoys other sports.
Athletics generally runs over a 5-6 week season and culminates in the AAGPS Athletics Carnival in September which famously hosts approximately 10,000 spectators every year.
Our Coaching group offers years of experience to our Year 7 to 12 Athletes. They carry high expectations of our students whilst maintaining a kind and caring approach. Each coach helps students achieve their personal best.
The college is able to offer a unique experience to all our students who volunteer for this exciting campaign.
Track Events
Hurdles; 100m; 200m; 400m; 800m; 3000m; 4 x 100m relays; 4 x 400m relays
Field Events
Shot Put; Long Jump; High Jump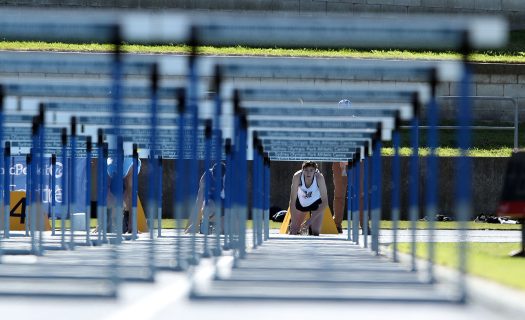 Training and Competition
The training expectations of our students is dependent on the number and type of events they choose to compete in. To maximise their outcomes some students may only need to attend 2 sessions a week, others may need to attend 4 sessions a week. This is always based on the individual and what they need. It is also a requirement that the students compete on a Saturday throughout this short season.
Competition experience is important. Any student wanting to gain more experience in these events is encouraged to compete at NSW All Schools and the Little Athletics competitions.
There are three Divisions which boys compete in:
Junior – U13 and U14
Intermediate – U15 and U16
Open – U17 and Open
2021 Season
After the success of the 2020 season, we as a College were excited for 2021 and the prospect of making the dream of another Premiership a reality. Sadly in 2021 it wasn't meant to be. Not due to effort or desire, not due to our preparation or participation, but due to the unforeseen tale of COVID-19.
Those boys willing were given programs in the last week of Term 2 to complete during the winter holidays. This would be the last time we saw the students until mid-to late-October. By this time, our Athletics season had been cancelled – after much thought and deliberation.
We were hopeful that a competition of some description could take place. Between Renato, Josh, some of the senior boys and myself we tried to maintain our energy and the push for us to pursue a Championship. Students were sprinting up hills, running on rocky tracks, jumping into sandy creek beds, flopping onto bed mattresses, shotting heavy rocks and lifting school bags all in our hopeful pursuit.
In late October, as COVID-19 related rules were lifted, NSW Athletics decided to allow the famous Nitro Schools Challenge event to run. 9 November was the date for a twilight competition and the Newington athletes picked up their spikes and in three short weeks trained the house down! Each student committed to their training, whilst juggling Term 4 commitments and summer sport.
Our two Year 12 students Sam Murphy and Joshua Watson mobilised the troops and were amazing. With the competition on Saturday the 9th and their HSC starting on Monday the 11th this was an impressive undertaking by them both. In total we had 25 Newington Athletes compete from the early afternoon well into the evening. Newington were the only school to field teams in all three divisions: Junior, Intermediate and Senior. Their sense of spirit and enjoyment was evident and on show for all to see. It was a wonderful afternoon and evening. Our Junior team achieved second place, our Intermediate team achieved third place, and our Senior team achieved equal first place (second place on count-back.)
Thank you to our Director of Sport Mr Mark Dickens who attended countless meetings in the hope of a season eventuating. His support of our program is much appreciated by our community and I.
In 2020 I wrote "2020 will be remembered by most as the year COVID hit". If only there was a crystal ball. 2021 will be remembered as the season of missed opportunities across all sports and activities. As a staff member at this wonderful school I will remember it as a season that provided reflection and appreciation, enabled an empathetic view and a grateful perspective. We have much to celebrate and much to be grateful for – The 2021 season ended on a high note. I cannot wait for our 2022 season and to make those who missed their chance proud of Newington Athletics.
Director of Athletics Mr C Black
Captain Renato Pane
Vice Captain Joshua Watson