Cricket
A summer sport with a rich tradition at Newington.
Newington Cricket Program
A foundation sport at Newington, cricket aims to create an environment which engages boys in a game that is contemporary yet seeks to uphold traditional values.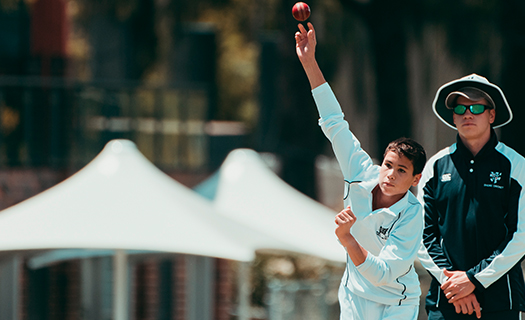 Training and Competition
Boys of all ages & skill levels are invited to learn how to play cricket in its various formats. In the Spring and Summer terms training is conducted twice per week with interschool matches on Saturdays.
Newington provides cricket facilities including:
5 turf wickets
15 synthetic nets
3 natural turf nets plus access to S&C amenities as part of the Taylor Sports Centre.
Regular [in-season] competition involves fixtures against other GPS and independent school on Saturdays. Cricket also provides opportunities to tour domestically &/or internationally.
2020/21 Season
The College fielded 32 teams with 403 cricketers participating across Stanmore, Wyvern and Lindfield campuses. Participation levels were consistent with previous seasons reflecting continued interest in cricket and playing strength across the board. Results-wise, the age level teams attained a 67% win ratio affirming the standing of Newington cricket.
The 1st XI finished in equal fourth position in the AAGPS competition and given the youthful make-up of the team the overall performance was credible. The 2nd XI also finished in equal fourth position.
The program, which encompassed the delivery of coaching services at each campus plus inter-school matches and invitational fixtures, attained the milestones ascribed in the 2019–2023 strategic plan. Students, either starting afresh or advancing in respect to technical and tactical aspects of their play, benefited from access to quality facilities and a high standard of coaching.
The Newington cricket community acknowledges the sad loss of Graeme Phillips who died suddenly in January 2021. Mr Phillips, an inspiring teacher and accomplished cricket coach, had a positive influence on the 16A XI, and 15A XI in the previous season. Matthew Bird, captain of the 16A XI, showed exceptional leadership as he and his team successfully navigated the balance of the season.
Appreciation is extended to the Newington College Cricket Community (NCCC) whose financial and organisational support added to the quality of the experience of cricketers across each of the campuses. Despite COVID 19 restrictions, the NCCC facilitated the delivery of the 1st and 2nd XI capping ceremony broadcast via Zoom, Year 7 cricketer induction and cap presentation, and End of Season Awards Presentation Assembly (streamed on YouTube). Each of these events was well received and reflected positively on the NCCC's adaptability.
The NCCC also inaugurated the Graeme Phillips Memorial Award to be presented annually to a cricketer who displays outstanding citizenship. The inaugural recipient of the Award was Josh Bird, previously 15A XI, then 2nd XI and 1st XI in 2020–21.
Nicholas O'Shea per formed his role as Captain of Cricket with aplomb. He set and maintained a positive tone throughout and made considerable effort to communicate with, and support age level team captains and players therein. His personable style together with a clear understanding of the role in serving the community affirmed the qualities of Nicholas' leadership.
We would also like to acknowledge the commitment and quality of staff and external coaches for their vital contribution throughout the season.
Director of Cricket Mr R Turner
Captain of Cricket Nicholas O'Shea
Individual Achievements
AAGPS XI – Nicholas O'Shea, Luke Callanan and Edson Whattam
NSW CIS XI – Edson Whattam
Cricket NSW Under 17 Invitational XI – Nicholas O'Shea, Luke Callanan and Edson Whattam
NSW U17 Metro Squad – Luke Callanan
NSW U17 Country Squad – Hayden Forner
AAGPS Chairman's 16 Years XI – Josh Bird
ONU Service Medal for Cricket – Stefano Ottavio
JM Taylor Best 1st XI Player Trophy – Edson Whattam
1st XI Ken Coles' MVP Trophy – Oscar Bradley
Macquarie Sport Award – William Grimison (15A XI)
Stuart Jennings Trophy for the Most Successful Group 1 Team – 14A XI, captained by Callum Grantham
Stuart Jennings Trophy for the Most Successful Group 2 Team – 5th XI, led by co-captains Jack Singleton and Fletcher Jakes, and 14C XI captained by Keaton Saggers (joint winners)