Fencing
Boys of all ages and skill levels are invited to Fence to improve their agility and coordination.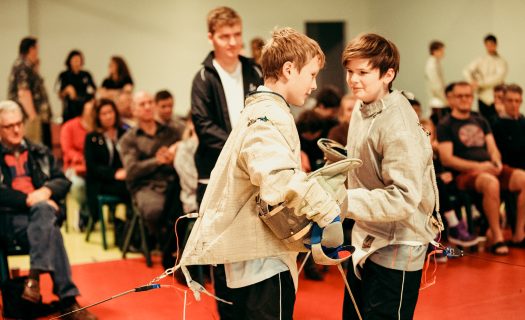 Newington Fencing Program
Fencing is a sport of tight, reflex actions, of combined skill of hand, eye and foot, where everything can change with the flick of a wrist.
The scoring of Foil Fencing is a count of "touches" on the opponent's torso. It is a fast, vigorous sport requiring great agility on the part of the fencers.
Training and Competition
Boys of all ages and skill levels are invited to fence
Our coaches are accredited and experienced in developing fencers from beginner level to national finalist level
Our Head Coach is training some up-and-coming Olympic hopefuls as well as several National teams
All boys receive the best training techniques and mentorship from the coaches.
Newington College has a proud history in both results and the development of interschool fencing. The most important trophy: the A J Rae Shield, recognises the significant contribution made by our former Headmaster and the continuing support the school gives to the sport.
2021 Season
In 2021 the Fencing season was, once again, cut short due to COVID. Despite this setback, the camaraderie shown by the boys throughout the season was the best I have seen in my time at Newington. This didn't go unnoticed – an official from the NSW Fencing Centre wrote to me to pass on a comment from a non-Newington fencer: 'Newington boys, coaches, and MICs are all so nice. They are sporting, polite and really seem to enjoy it. They just get it.'
This year we welcomed a familiar face as our new Head Coach: Mrs Dimitra Giovani, better known to the boys as Dimi. Her passion for fencing and dedication to her students has been a huge boost to the program. Mr Harrison Saunders (ON 2020) and Mr Boston Fawkes returned as foil and sabre coaches, joined by new recruits Mr Federico Moreno and Mr Oscar Karageorgis. We were also joined by Newington teachers Mrs Athena Spiroglou, Dr Anne-Marie Singh and Ms Annie Cao. After a very brief crash course on what was a very unfamiliar sport, all took to their new roles with great enthusiasm.
With the generous support of the Fencing Support Group, the College invested in three new scoring boxes, which have been permanently installed at Concordia by armourer Peter Witkop. This setup has led to a dramatic increase in the amount of time boys get to spend in competition-style bouts. Again thanks to the Support Group, we have also acquired new foil and sabre weapons – including those for the long-suffering left-handed members of the team.
This year Newington Fencing partnered with Simon Capon (ON 2011), the NSW Head Epee Coach and Assistant National Foil Coach. Simon's company, Scherma Australia, is a provider of fencing equipment, and the partnership enables boys to build up their own high-quality fencing kit as they move through the program.
We have also had a small group of Year 11 and 12 students working their way through the NSW Fencing Association Level 1 Coaching Course and look forward to seeing some of our students return to Concordia as qualified coaches once they have left the College.
A special thanks must go to the parents of all our fencers, some of whom, due to COVID restrictions, have never had the opportunity to see their son fence. I look forward to seeing your faces in person next year.
And finally, the boys, particularly those Year 12 fencers who missed Nationals for the second year in a row, who didn't get to finish the teams competition (undeniably the most enjoyable part of the season), and who didn't get their end-of-season pizza party. Thank you for your resilience and endless good humour.
Director of Fencing Ms A Halls
Captain of Fencing Henry Armstrong-Bailey
Head of Foil Christopher Paoloni
Head of Sabre James Lucas
Head of Armoury Nicholas Disher and David Upcroft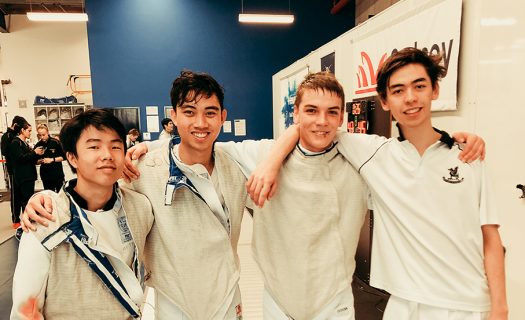 2021 Awards
Senior Foil Spirit of Fencing: Alex Lynch
Senior Foil Most Improved: Will Houseman
Senior Foil Best and Fairest: Oliver Chow
Senior Sabre Spirit of Fencing: Myles Malone
Senior Sabre Most Improved: Nicholas Disher
Senior Sabre Best and Fairest: Henry Armstrong-Bailey
Junior Foil Spirit of Fencing: Ethan Marriott
Junior Foil Most Improved: William Ellis
Junior Foil Best and Fairest: Tristan Henry
Junior Sabre Spirit of Fencing: Kevin Feeney
Junior Sabre Most Improved: Julian Bray
Junior Sabre Best and Fairest: Anthony Broockmann
Year 7 Spirit of Fencing: Benjamin MacDessi
Year 7 Most Improved: Matthew Alvarez
Year 7 Best and Fairest: Nam Long Tran