Fencing
Boys of all ages and skill levels are invited to Fence to improve their agility and coordination.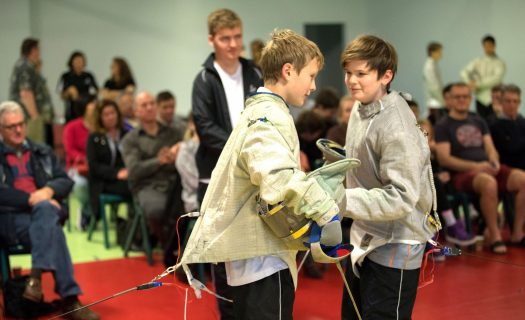 Newington Fencing Program
Fencing is a sport of tight, reflex actions, of combined skill of hand, eye and foot, where everything can change with the flick of a wrist.
The scoring of Foil Fencing is a count of "touches" on the opponent's torso. It is a fast, vigorous sport requiring great agility on the part of the fencers.
Training and Competition
Boys of all ages and skill levels are invited to fence
Our coaches are accredited and experienced in developing fencers from beginner level to national finalist level
Our Head Coach is training some up-and-coming Olympic hopefuls as well as several National teams
All boys receive the best training techniques and mentorship from the coaches.
Newington College has a proud history in both results and the development of interschool fencing. The most important trophy: the A J Rae Shield, recognises the significant contribution made by our former Headmaster and the continuing support the school gives to the sport.
2020 Results
Despite a truncated inter-school competition, we still experienced some solid results. In the Intermediate Sabre division the Junior A and B teams won silver and bronze respectively, while our Senior A sabreurs won the bronze medal in their event, breaking an abundance of blades in the process. Other highlights included Henry Armstrong-Bailey's indefatigable positivity; William Smith's ability to liven up an early-morning training session with a portable speaker; novice Year 7 foilist Marcus Ke fencing with the Senior team on the very first weekend of competition; the leadership of our Captain, Alistair Shaw; and our Armoury Captain, James Lucas, who early in the season came to almost every training session to manage equipment. Next year we can look forward to a large cohort of Year 12 fencers continuing with the program, along with the exciting addition of permanent scoring boxes on the wall at Concordia, kindly donated by the Fencing Support Group.
Coaches
The school is lucky enough to have two coaches that train Olympic hopefuls and National Champions. Alexandra Andre and Boston Fawkes (an Old Boy himself). They are ably assisted by Felix Shannon, Harrison Saunders, Tom Baker and Jack Murtough-Coombes, all Old Boys with a passion for the sport.