Tennis
Tennis is a year-round sport at Newington. In the Summer Season, boys compete in the AAGPS Competition as well as Age Group competitions.
Newington Tennis Program
Every student participates in a comprehensive training and competition program that caters for all playing levels.
Tennis is a year-round sport with a summer and winter program. Summer has a AAGPS competition as well as an Age Group competition. The winter tennis season caters for beginning players as well as supplementary training for performance athletes. At Newington, each tennis student participates in a comprehensive training and competition program that caters for all playing levels. The Director of Tennis is supported by dedicated internal staff, and by a team of qualified and skilled coaches and assistants.
The college boasts a world class facility that consists of 6 Australian Open Hardcourts, as well as 3 multi-purpose synthetic grass courts. There is a shaded viewing deck as well as a tennis office, club room, and bathroom facilities. The courts have recently been resurfaced and have hosted Tennis Australia tournaments and coach education courses. Courts are available for social use by students, staff, family and friends, subject to court availability.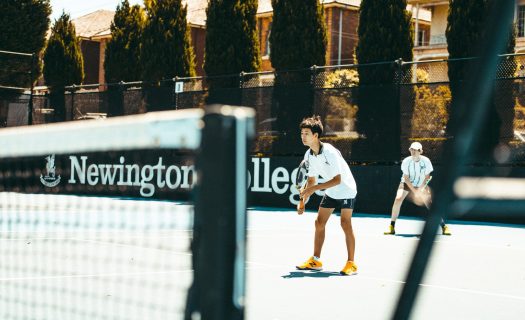 Training and Competition
Newington participates in:
The AAGPS competition
An Age Group competition against AAGPS schools
Players who do not gain selection in the AAGPS or Age teams play in a Challenge Fixture competition against participating AAGPS and CAS schools
Each student is required to participate in two training sessions per week, as well as play in a team competition fixture each Saturday. AAGPS teams are required to commit to additional training including strength and conditioning. The boys have representative opportunities with the AAGPS, CIS and as part of school tournament tours. The Johnson Shield is awarded to the school singles champion and is played each year as an invitational event for the top 16 players in the school.
Newington College, continues to conduct tournament tours to expose our Performance and Aspiring players to competitive tennis outside the school system. The most recent tour was to Inverell and Coffs Harbour. There is a planned Grandslam tour to the 2018 Australian Open. Many of our leading players also compete internationally during the off season. The pathway to the ITF/ATP Protour, or to a US College athletic program, is carefully integrated into the GPS tennis program at Newington.
Recent Successes
Mark Papadopoulos had a great year. In addition to making the NSW All Schools team, Mark was elected Newington Captain of Tennis, won the ONU Service Prize for Tennis, and won the Johnson Shield (Newington College Singles Championships).
The 2017 GPS Tennis Season was a frustrating one, with wet weather affecting the results of both the GPS teams and the Age Group teams. Although the GPS 1st were undefeated, they finished 2nd in the competition. The GPS 2nd finished 4th with only one loss. Across all competition we had a positive win : loss record with the Opens teams dominating the competition, winning over 80% or all matches played. Apart from the frustrations of the weather, the season had many representative highlights.
Mark Papadopoulos (12)- GPS 1st, CIS, NSW All Schools.
Jun Sasagawa (11)- GPS 2nd, CIS, Winner GPS Top 6, attained ITF Junior World Ranking.
Paul Howe (11)- GPS 2nd, CIS.
Eric Carney (6)- CIS
Eric Tripathi (9)- National Grasscourt Championships Maindraw.
Justin Dong (7)- National Grasscourt Championships Maindraw.
Tennis Camps and Private Lessons
Tennis Camps and Private lessons will now be conducted by the school, operating under NewSport. Information will be send out leading in to holiday tennis camps. For all enquiries about private tennis lessons, please email the Director of Tennis, Greg Royle.