Tennis
Tennis is a year-round sport at Newington. In the Summer Season, boys compete in the AAGPS Competition as well as Age Group competitions.
Newington Tennis Program
Every student participates in a comprehensive training and competition program that caters for all playing levels.
Tennis is a year-round sport with a summer and winter program. Summer has a AAGPS competition as well as an Age Group competition. The winter tennis season caters for emerging players as well as supplementary training for performance athletes. At Newington, each tennis student participates in a comprehensive training and competition program that caters for all playing levels. The Director of Tennis is supported by dedicated internal staff, and by a team of qualified and skilled coaches and assistants.
The college boasts a premier facility that consists of 6 blue hardcourts, as well as 3 multi-purpose synthetic grass courts. There is a shaded viewing deck as well as a tennis office, club room, and bathroom facilities. The courts are professionally dressed each year and meet Tennis Australia standards. Courts are available for social use by students, staff, family and friends, subject to court availability.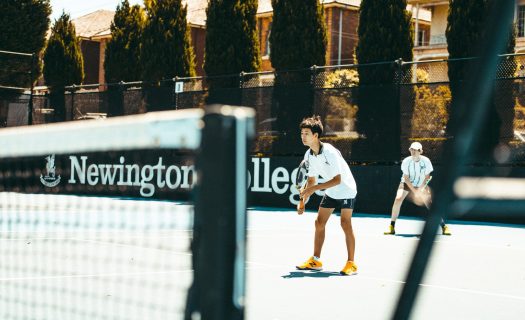 Training and Competition
Newington participates in:
The AAGPS fixtures competition
Age group fixtures competition against AAGPS schools
Students who do not gain selection in the AAGPS or age teams fixtures compete in an internal competition.
Each student is required to participate in two training sessions per week, as well as play in a team competition fixture each Saturday. AAGPS teams are required to commit to additional training including strength and conditioning. The boys have representative opportunities with the AAGPS, CIS and as part of school tours.
Newington College continues to encourage tournament experience to expose our performance and aspiring players to competitive tennis outside the school system. The pathway to the ITF/ATP tour, or to a US College athletic program, is aligned with the tennis program at Newington.
The winter tennis program caters for students of all standards and ambitions. Traditionally, the winter tennis program is a learn-to-play program that consists of tennis lessons, team training and weekend competition. An internal singles and doubles tournament is conducted with the winners being awarded the Newington Winter Tennis Trophy.
The College also conducts supplementary training for talented and passionate tennis players who wish to combine their school sport commitments with additional tennis development. This program is designed for students who wish to pursue tournament tennis all year round.
Recent Successes
In 2020 Aska Yeldham-Ono and Louis Ewington were presented awards for students who exemplified the character attributes of a good Newington citizen. This is the highest honour recognised by the Tennis program each season as voted by the students, managers and coaching staff. Congratulations boys!
Eric Tripathi: AAGPS and CIS championships, AAGPS representative team, CIS representative team, ONU Service Award
Tully Suttie: CIS championships, CIS representative team
Jesse Gothelf: AAGPS representative team
Justin Dong: AAGPS and CIS championships
Tennis Camps and Private Lessons
Tennis Camps and Private lessons will now be conducted by the school, operating under NewSport. Information will be send out leading in to holiday tennis camps. For all enquiries about private tennis lessons, please email the Director of Tennis, Chris Steel.