Cross Country
Although an individual sport, there is great camaraderie in Cross Country at Newington.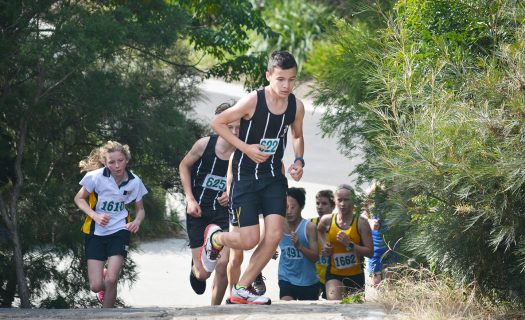 Newington Cross Country Program
Cross Country is a non-contact sport that offers the boys an opportunity to train in a great environment not just for cross country, but also as a cross training alternative for other sports such as athletics, rowing, triathlon and cross country skiing held in different seasons. Newington offers excellent facilities including a weights room and nearby Sydney Park is a great venue for training and competition.
In the AAGPS competition, each school hosts a meet on varied courses, with advancement to the following championships – AAGPS versus CAS, NSW CIS, NSW All Schools and Australian All Schools. Training is held at least twice a week both on the field and in the pool.
2021 Season
The 2021 cross country season started with a bang. The community was looking forward to a clear run at competition after the short trial period which leads into the start of the representative period but all was unfortunately cut short. While this meant disappointment for some, the AAPGS community was able to run sufficient events to announce competition age-group winners and place-getters.
The Newington team used lessons learnt from 2020 and we became creative in adapting training and internal competitions. We created Strava challenges using technology to log and track specific challenges for runs with varying terrain and distances. This brought us interesting results and data that athletes saw as useful to use in the future. Some of these challenges went across the entire school community with specific running programs being created. The Strava Newington 'Run Group' logs training for what was to be the City to Surf. Adaptation and program ownership by athletes was key and highlighted our historical catch-cry, 'Process over Outcome'.
Fortunately, we were able to run the Newington Invitational carnival which was the largest attended event across the GPS and CAS cross country communities. It was a race held at North Ryde Common that exposed our athletes to a larger group of competitors which, for the competitive ones, allowed them to see and compete with competition likely to be similar in the representative end of the season.
In 2020 we saw some great things evolving in the U14 team. This came to fruition in 2021 as the Year 8 athletes took the leadership initiative with the Year 7 boys and combined to have one of the most competitive groups of runners we have seen. This team were the 2021 premiers with great position points from the top runners being backed up by a worthy group of committed runners from the balance of the team. The next four to five years will see the continuance of this group's success. The U16 group was a small cohort. Their commitment to turning up to every race and training saw a bunch of great young men draw on each other to enjoy not necessarily great results, but 100% of finishers every week. When other athletes and age groups in our team see this and the support they lend to each other, it rubs off on the other athletes. In the Opens we had a slow start to the season with interruptions caused by injury, illness and, of course, academic commitments. The team was just starting to get its mojo when the season was cut short. Again, a small team but with some great athletes and competitors that have been in the sport for many years.
There were some defining moments for various athletes which included representation in the GPS team at CIS. It is not always the results that create great young men, but how they achieved their own goals. Vincent de Souza, our team captain, helped create a lot of our technological training tools as well as guide the entire team through a difficult season. Bailey Habler was awarded a GPS Blue for being picked in the GPS Merit team, and used his knowledge and experience to help with the competitive U14 team.
Cross country is not a simple sport. It's an individual endeavour based on the needs of the team. This means cohesion is important and is the major goal we set out to achieve at the start of the season so that it rolls through the season proper. Other schools know when Newington is around. We're a small team of fierce competitors that is never underestimated.
Mr Raven was our Year 7 coordinator, a role he has performed for many years. His guidance, encouragement and support are a major contributor to the successes of the U14 group. Our support coaches were Ms Bowers and Ms Heaume. Both are relatively new to this sport and have learnt and adapted to the unique needs of the endurance athlete, confident that they can step in when needed to fulfil specific roles.
2021 was yet another year of learning how to adapt. Adapt to the challenges of what was presented to us halfway through the season, adapt to a new way of thinking for training, adapt to uses of 'smart' technologies for training and fun competition and adapt to a different way of supporting each other as a group.
Director of Cross Country Mr S Astley
Captain of Cross Country Vincent de Souza
Working as a Team
There is a great sense of camaraderie and team unity in the Newington program.
2021 Achievements
Our continued catchcry, 'Process over outcome', recognises personal development and personal bests on the competition field.
AAGPS, CIS and AAGPS Merit Team Representative: Bailey Habler
AAGPS and CIS Representatives: Hugo Baker, Will Cheshire, Harry Halleen
AAGPS Representatives: Vincent de Souza, TedGoldsmith, James Hoskins, Lachlan Jackson, Brandon Mitchell, Tom Ryan, Oscar Sutherland