Swimming
Often seen as an individual sport, there is great camaraderie amongst the Newington swim team both in training and competition.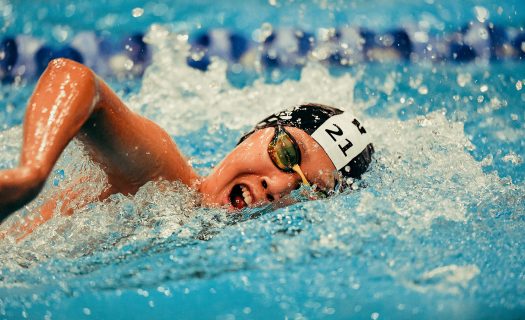 Newington Swimming Program
Swimming is offered as a sport option for competitive or non-competitive swimmers in both Summer and Winter seasons.
Students can focus more on swimming and set a seasonal or yearly plan with expert coaching and guidance from Head Coach, Mr Jared Goldthorpe.
Training and Competition
At Newington every swimmer is a valued team member and is given the opportunity to perform.
At Newington every swimmer is a valued team member and is given the opportunity to perform. Through dedication and hard work, Newington's swim team has gone from strength to strength.
A school-based and community squad program along with our Swimming NSW affiliated club, Newington Swimming Club, ensures all of our students have the opportunity to train and compete at any level – from beginner to National.
Our swimmers have the privilege to train at our onsite, indoor, heated 25-metre pool. Recent and upcoming upgrades to the facility include new changing facilities and state of the art starting blocks. This makes our aquatic centre a great place to train.
2021 Season
Student report
The Newington College Swimming team achieved great success this season, winning the Senior Premiership and placing second, third and second in the Junior, Intermediate and Open Relay divisions respectively. The team showed great strength of character as the Juniors chased King's down to the wire, the Intermediates rallied from fourth place at the start of the final night to produce a strong finish, the Seniors extended their lead to secure the trophy and the All-Age Relay team secured a win to end a successful season.
There were many strong individual performances throughout the season, including those from Aleksander Barlin, who broke a school record; Thomas Oates, who broke four school records and a GPS record; Jackson McCleery, who broke three GPS records; and Karl Kovarik and Lachie Sedgwick, who both broke a GPS record. I'm pleased to join this group, with two school records and a GPS record of my own.
Twenty Newington students were selected to represent the combined AAGPS team at the CIS Championships and ten went on to represent the CIS team at the NSW All Schools Championships in May. This is one of the largest groups of representatives that the team has ever sent to each level of competition – a true testament to the strength and depth of the team across all divisions.
Seven boys from Newington's Swimming Club qualified to compete at the Australian Age Swimming Championships in April. The boys achieved strong results in their maiden nationals with the club, achieving two top-five finishes and five top-ten placings. This is a promising start for the new club's future at Newington.
On behalf of the team, I'd like to thank Mr Moar. While we are yet to see him actually don the black and white swim cap, I can't thank him enough for his strong support and leadership behind the scenes at every stage throughout the season. I'd also like to thank Ms Hayes for being our moral support and for helping manage the team, which takes great care and effort and was appreciated by every one of us. Finally, I'd like to thank Mr Goldthorpe for his coaching and inspiration, setting the foundation for us to swim our best every race day. In the three years you've coached the team, we've achieved so much thanks to you. I'm sure there will be many more wins and trophies, and it will be exciting to see the program continue to grow.
Captain of Swimming Christopher Mina
Staff report
There were no fewer than 13 records broken by Newington swimmers in the 2021 season. With this prolific number of records, there was obviously no shortage of wins and success stories.
Particularly pleasing was seeing the first-ever Newington Swimming Club contingent travelling to the Gold Coast during Easter to compete at the National Age Championships for our club. Sebastian King, Jackson McCleery, Karl Kovarik, Ethan Payne, Lewis Saupin, Christopher Mina and Thomas Oates represented the club, along with Head Coach Mr Jared Goldthorpe.
On the school level, we achieved our best results at the NSW All Schools Championships for many years. Our 6 x 50m Freestyle All Age Relay, team comprising one swimmer from each age group from 12 – 17+ years, finished third in the state behind Trinity and Knox. Other individual medal winners include Christopher Mina with a silver in the Opens 100m Butter fly and Karl Kovarik with a bronze in the Opens 100m Freestyle. Lachie Sedgwick also picked up a bronze medal as a member of a multi-class CIS relay team at the NSW All Schools meet.
A new initiative which must be mentioned in this report was the introduction of Swim Team Awards which were presented in-house at a post-GPS season breakfast function recognising the program's achievements.
Along with all the success in the pool in competition, it must also be noted that the NewSport Swim Squad program continued to grow and flourish. Despite the setbacks during COVID-19, the number of swimmers at every session continued to expand. This trend is hoped to continue in future years.
Head Coach Mr J Goldthorpe
Director of Aquatics Mr R Moar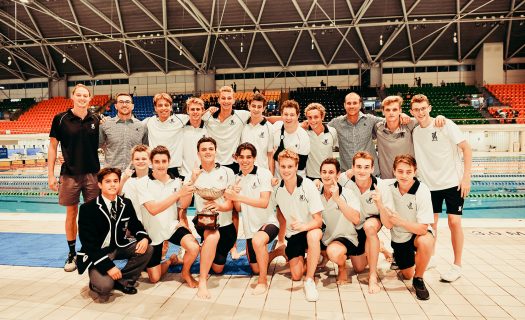 Recent Successes
AAGPS Swim Team Representatives: Thomas Baird, Aleksander Barlin, Bo Chung, Dominic Goonan, William Gray, Max Hole, Sebastian King, Karl Kovarik, Jackson McCleery, Christopher Mina, Orlando Mina (Rob Wydell – sub), Thomas Oates, Ethan Payne, Lucas Pollard, Lewis Saupin, Lachie Sedgwick, Flynn Visch, Liam West, Toby Willington, Michael Zhou
NSW CIS Swim Team Representatives: Aleksander Barlin, Bo Chung, Sebastian King, Karl Kovarik, Jackson McCleery, Christopher Mina, Thomas Oates, Lewis Saupin, Lachie Sedgwick, Rob Wydell
NSW All Schools Merit Team Representatives: Karl Kovarik, Christopher Mina