AFL
AFL is the latest edition to the Newington College Winter Sports program
Newington AFL Program
AFL at Newington is considered a recent edition to the Newington sports program, with three Year 5/6 teams entering the Independent School's Competition in 2016, a Year 9/10 team in 2017 and an Opens side in 2018 .However, the archives suggest that the first ever games of AFL were played back in the 1860's during the Headship of Mr. Metcalfe, long before Rugby and Football came into formation. Recent developments have been very strong with links to the NSW/ACT AFL and various local AFL clubs, with boys being represented at the academy level across all year groups. In 2020, Newington will have four senior teams, two Year 9/10 teams and two Open grade teams.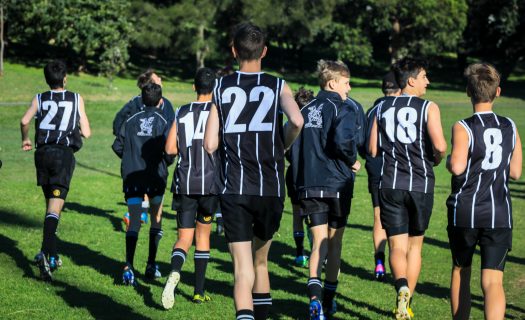 Training and Competition
Two on field sessions and one gym session per week.
Boys have access to the excellent facilities, including the pool, gym, physiotherapy and excellent training grounds.
With a limit on player numbers per age group, the level of competence is very strong across all age groups.
Coaching expertise includes CIS level coaches and assistance from level 3, 1st grade AFL coaches.
There is the opportunity to strive for representative level and interstate tours planned for the senior teams.
2020 Season
Newington's Australian Rules Football program continued to thrive despite the displacement caused by the COVID-19 pandemic. Now in the fourth year as part of the Independent Schools Competition, the number of teams expanded to include four Senior and three Junior school teams. The positive culture within the program abounds, shared between the parents, players, coaches and staff.
The adjusted season meant that the GPS and CAS schools competed independently of each other. St Ignatius' College, St Joseph's College, Shore and Newington were seeded in a seven week competition that was completed in the final week of Term 3. Our Intermediate A and 1st XVIII teams played their final games under lights at Bat and Ball Oval against arch-rival St Ignatius', on a wet and dim evening. Despite this being one of our only defeats throughout the season, the boys and spectators were filled with excitement and energy regardless of the conditions.
Our annual tour was unfortunately derailed by the pandemic, as was our invitational game with the Redtails representative team from the Northern Territory, who were due to compete with a selected Newington team on Buchanan Oval in April. This tour will hopefully proceed at the advent of the 2021 season, which will be a fulfilment for those who have taken the initiative to plan and raise the funds to sponsor the Redtails team in traveling to Sydney.
Well done to all our Australian Rules Football players for giving heart and soul throughout the season. A special mention to the Year 9 boys who brought great passion in numbers into the program, with some boys already having played in our 1st and 2nd XVIII teams. 2021 will be an even better season as the development of skilled and passionate players continues to flourish.
A worthy mention must be made to acknowledge the work done by Mr Jason Howard, Mrs Vicki Ditcham, Ms Belinda Thomas, Dr Stephanie Williams, Mr and Mrs Tony and Kylie Gillies, Mrs Anabel Matison, Dr Dieter Hochuli, Mr Michael Andrews and Mr Michael Negri as well as Mrs Kylie Gillies and Mr Sheyne Walsh behind their cameras, as well as everyone else who has been part of the Newington AFL Support Group. This takes commitment and effort which is very much appreciated and does not go unnoticed.
Looking ahead, the 2021 season will be even more exciting, with a new generation of current Year 8 boys coming through, a tour planned and hopefully the exhibition match will be held at Newington against the Central Australian Redtails team. Congratulations to all involved in helping the Newington AFL Community to be a great success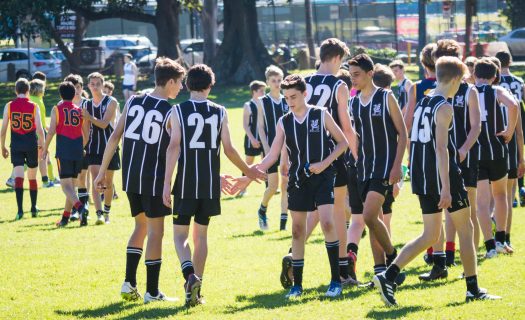 Program Aims
The AFL program aims to improve the competency and competitiveness through fun, consistent drills and development of 'game sense'
Build a strong and solid culture within the AFL program
Cultivate a strong sense of motivation and teamwork forms the crucial backbone to a culture of confidence and belief