Volleyball
The Newington Volleyball program continues to grow as an AAGPS sport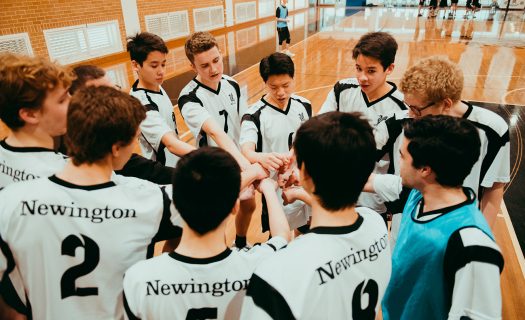 Newington Volleyball Program
Newington offers Volleyball as a winter sport across Terms 2 and 3, with an AAGPS competition for U16 and Open age-group (Firsts through to Thirds) teams.
Volleyball is a competitive and demanding sport that provides an athletic and non-contact alternative in the winter months.
Training and Competition
Played on indoor courts, the AAGPS competition involves weekly home and away fixtures
The U16 competition is the first opportunity that Newington boys get to play competitive Volleyball
U16s develops the skills that the boys can take into the Open competition in the years to come. They get a sense of Volleyball as a structured game, on-court roles and tactics and build specialist passing and hitting skills. Over the past two years, our U16 teams have maintained positive win-loss ratios and have found great enjoyment in the game.
The College is also proud to have produced players who have progressed to play at senior representative (CIS) levels and have gone on to play for State and National League teams in their years beyond school. We are fortunate to maintain the links with many of these Old Boys, with some returning as accredited coaches to guide the next generations of Newington Volleyball players.
Continued Growth
Consolidating the already growing numbers in Volleyball, the sport will add at least two teams next season.
2020 Season
The 2020 Volleyball season was characterised mostly by the high levels of enthusiasm from its boys. Holiday trainings and fixtures, extra morning skills sessions and thrice-weekly lunchtime sessions were all driven by a large group of hard-working, engaged and passionate players. Feeding this enthusiasm were a dedicated group of coaches, supported by administrative staff. Captain of Volleyball Jack Croll was a key driver in enthusiasm of the younger cohort.
Burgeoning numbers in the Volleyball program made it difficult to find opposition given our growing number of teams. At times boys were asked to play internal fixtures, but the professional approach to these fixtures by boys and staff was noteworthy. COVID-19 restrictions meant that the usual combined GPS and CAS competition was reduced to just a GPS competition, where results across the board were very pleasing. Not only did the boys perform well, but they also looked the part as Volleyball uniforms for all boys were introduced for the first time.
The program awarded Jack Reid the ONU Service Prize to Volleyball for his efforts, above and beyond, to assist the program particularly on Saturdays. The Volleyball Support Group were also integral in raising funds to improve the experience for all boys in the program.